BBVA has hired Derek White, former Chief Design & Digital Officer at Barclays Bank PLC, as Global Head of Customer Solutions. In this role White will drive the transformation of the customer value proposition, including global product and design, customer experience, launching new products and services and leveraging big data and customer analytics.
Picture of Derek White head of Costumer Solutions at BBVA
Derek White will report to Carlos Torres Vila, president & COO of BBVA. White will start at BBVA on March 1st and will be based in Madrid. White joined Barclays in 2004 through the acquisition of Juniper Bank (now Barclaycard US), where he was an early member of the start-up internet bank. In his latest role at Barclays, Derek White led the U.K. bank's digital banking initiative, embracing disruptive technologies and the startup ecosystem, while overseeing the design and launch of market leading applications, platforms and services. Prior to joining Barclays, Derek was at First USA Bank (now JPMorgan Chase) in the U.S.
"BBVA is a global institution that is transforming banking and creating the future of financial services," said Derek White. "I can't wait to join the team."
Born in Utah in the U.S., Derek has a B.A. in Liberal Arts and Sciences from Utah State University and holds an MBA from Wharton School at the University of Pennsylvania. He and his wife have four children.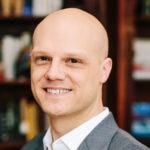 Derek White, Global Head of Customer Solutions.