'Code the Future with Garanti' returns in 2019, kicking off in Istanbul
In 2016 Garanti Bank teamed up with Bahçeşehir University to launch 'Code the Future with Garanti', an educational program designed to make a positive impact on local communities by preparing children for the digital age. Entering its fourth year, the program will hold a series of workshops in seven cities across Turkey. Its first stop: Istanbul.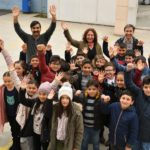 Third- and fourth-graders from Istanbul participated in the first session of the 'Code the Future with Garnati' workshop series. The training sessions are tailored to help children develop twenty-first century skill sets – most notably robotics, coding, algorithms, and design. To encourage their assimilation of the technical content, each child was provided with detailed learning materials and an individual teacher-mentor. Using a fun approach to problem-solving, the workshops engaged children by demonstrating how their creative ideas could be transformed into reality using algorithmic thinking, the principles of design, and teamwork. Family communication seminars were arranged for the children's parents while the kids were busy creating.
To extend the program's reach, teacher training was incorporated in 2018. So, this year teachers from Istanbul took part in a mix of online training, two days of face-to-face training, followed by a Code the Future workshop with their own students.
Garanti Bank recognizes that digital literacy is fundamental for the times we live in. As a consequence, as noted by Didem Dinçer Başer, Garanti Bank's Executive Vice President, equipping younger generations for the 21st century is a priority for the bank. Dinçer Başer added, "As an organization that views digital transformation as fundamental to its strategy it is only natural that we seek innovative ways to contribute to the numbers of digitally literate children. It is the children, afterall, who will take up the mantle of transforming technology for the benefit of society."