Garanti and Bahçeşehir University heighten their collaboration on the 'Code the Future with Garanti' project, an initiative that aims to better prepare children for the digital future. This year the project partners have kicked off a new phase that includes new contents as well as teacher training in seven cities across Turkey.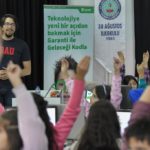 In 2016 Garanti Bank and Bahçeşehir University teamed up to launch the 'Code the Future with Garanti' project. This collaboration aims to better prepare children for the digital future by providing entertaining educational content that showcases how technology enriches the word. Now in its third year, the project seeks to do even more by including the teaching of basic coding, robotics, and algorithms — all with a focus on design — to third and fourth grade students.
The project's fundamental goal is to provide children with the benefit of advanced educational subjects in workshop environments that engage them in a fun approach to problem solving. Garanti Bank places special emphasis on providing each child with his or her own materials as well as an individual mentor. The children discover how to use algorithmic thinking and teamwork to design a product, bringing their imagination to life.
Teacher training and volunteer participation
In addition to the workshops for children, the project is also helping to raise parental awareness with seminars on the topic of 'Raising Children in the Digital Age.' Additionally, for the first time this year teacher training has been incorporated into the initiative. From 2018 teachers taking part in the project will first receive online and classroom training. They will then participate in 'Code the Future with Garanti' workshops organized in their local cities.
After the workshops, the teachers empowered with know-how and hands-on experience will be able to repeat the project in their own classrooms. They will facilitate their students' ongoing learning process by developing projects in collaboration with the students from the training program.
2018 also saw another innovative element introduced into to the project with the participation of Garanti Bank employees as volunteers in the workshops that are organized by Bahçeşehir University. The volunteers receive coding and robotics training so they can support the students during the workshop training sessions.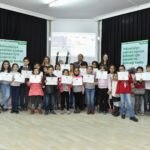 Participants in the 'Coding with Garanti' project.
In seven cities
In today's world digital literacy is recognized as a basic skill, which is why Garanti Bank attaches such importance to activities that aim to enhance the twenty-first-century skills of future generations. "Education is one of Garanti Bank's most important initiatives and is where we have made our largest contributions in recent years," explained Didem Dinçer Başer, Garanti Bank Executive Vice President. "As an organization that has adopted digitization as a basic strategy, we aim to lead the way as demonstrated by our innovative work related to our customer touchpoint processes, as well as all our different social benefit projects."
In this context, to ensure highly qualified future generations, "it is extremely important that Generation Z — a generation that is inseparable from technology — learn the basic principles of programming from an early age and gain the skill of design-centric thought. We are delighted to be able to reach hundreds of children and families across Turkey, and this year to expand the project's scope with teacher training," she said.