Collaboration between BBVA and Inter-American Investment Corporation encourages private investment in Latin America
Today, BBVA CFO Jaime Saénz de Tejada stressed the important role the Inter-American Investment Corporation (IIC) plays as a partner and lender for Latin America's private sector. He also underscored BBVA's close relationship with the Inter-American Development Bank (IDB), with which the bank is collaborating on numerous fronts.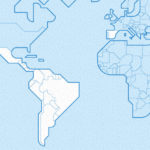 Jaime Saénz de Tejada participated in the panel titled "Investment firms' experience in Latin America and the Caribbean" as part of the IIC's presentation at the Spanish Institute for Foreign Trade's (ICEX) headquarters in Madrid. The Inter-American Investment Corporation is a multilateral body that belongs to the Inter-American Development Bank Group, whose main function is to promote the economic development of Latin America and the Caribbean through the private sector.
In his presentation, Jaime Saénz de Tejada emphasized the important role the IIC plays in the region by financing the private sector, and particularly due to its ability to provide countercyclical resources. This has helped to mitigate the impact of financial crises. He also stressed the support the IIC provides SMEs seeking to grow internationally. In this regard, he called attention to the ConnectAmericas initiative – the first social network for businesses in the Americas. As an affiliated bank, BBVA has supported this initiative, which is based on three fundamental pillars: education, connectedness and financing opportunities.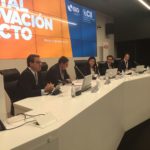 Jaime Sáenz de Tejada along with the rest of participants in the panel titled "Investment firms' experience in Latin America and the Caribbean"
BBVA's CFO also pointed to the close relationship between BBVA and the IDB Group. This partnership was strengthened in July 2016 when the institutions signed a memorandum of understanding (MOU) that describes the many different areas in which they are collaborating. He specifically referred to the different products and initiatives in which BBVA and the IIC have collaborated: pass-through financing, private sector lending, support for the development of local capital markets, foreign trade programs and corporate social responsibility policies.
Sáenz de Tejada also highlighted the collaboration of BBVA and its Microfinance Foundation and the IDB in areas not strictly financial, such as entrepreneurship, digital development, financial inclusion and financial education.
Finally, Jaime Saénz de Tejada mentioned BBVA Bancomer's program "Adelante con tu futuro" which won one of the IDB beyondBanking awards. Created in 2008, it is a financial education program that helps people manage and utilize the bank in their favor through completely free training. Financial education remains a global priority for BBVA, he stressed.