BBVA Compass is focused on leading the transformation of the banking industry by being a pioneer in the evolving digital landscape and spurring innovation from within and without.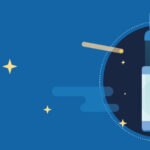 The future of banking is here, where technological developments - big data, blockchain, biometrics, artificial intelligence - and disruptors seeking to take pieces of traditional bankings' value chain are playing increasingly large roles. And just as banks are facing these new competitors, they're also trying to keep up with the demand for a new type of banking, specifically among millennials, by updating their technology platforms and their workforces for the 21st century.
BBVA and BBVA Compass are at the fore of the banking industry's transformation, developing new businesses to help meet the demands of today's consumers, adopting new ways of working, opening digital platforms and establishing key relationships with innovative players.
A New Foundation
In late 2012, BBVA Compass debuted its new core technology platform. The more than $360 million project made the bank one of the first financial institutions in the U.S. to implement real-time processing and also allowed BBVA Compass to become the first major bank to open its platform to digital innovators such as Simple.
When Celent, a financial technology analyst firm, recognized BBVA Compass as its Model Bank of the Year in 2013, it noted the core system as the largest U.S. bank transformation in the ten years leading up to the technology milestone.
Beyond the new core technology platform, the bank continued its foundational efforts around digital, choosing to build the code in-house for its mobile and online banking platforms so that it could have complete say over these all-important services. That allowed BBVA Compass to plot its own course in design and functionality, and respond to evolving customer needs quickly. The benefits have been clear, with the mobile banking app winning multiple awards from Money magazine, Global Finance and Javelin Strategy & Research, the latter naming it the best app for functionality three years in a row. BBVA Compass Online Banking has seen similar success as last year it received top nods for Financial Management and Money Movement capabilities in Javelin Strategy & Research's inaugural Online Banking Scorecard.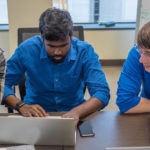 To twitter
At the @BBVA Creation Center in #Dallas, employees create solutions that minimize technological roadblocks and maximize the #userexperience.
New Capabilities
The bank has been similarly focused on honing its skills and capabilities to adapt to the demands of the digital age, building its workforce to include user experience (UX) designers, software developers and engineers.
To develop the needed capabilities, the bank in 2015 acquired Spring Studio, a San Francisco-based user experience and design firm.It also opened the BBVA Creation Center in Dallas, a digital lab where employees with backgrounds in digital, online and emerging technologies work with teams from across the dozens of countries in BBVA's global footprint to create solutions that minimize technological roadblocks and maximize the user experience.
The bank continues to develop its skill set in other important areas that will allow it to give clients a more personalized banking experience and additional control over their own financial journey. The use of Big Data is one such area. By using Big Data, BBVA Compass is better able to understand its customers, providing them with the products and services they need at each stage of their financial journey.
The bank is also exploring how it can most effectively use distributed ledger technology, also known as blockchain. BBVA is one of the founding members of R3 CEV, a consortium for financial innovation whose member companies have worked together to develop and research the use of this technology in financial services.
'Coopetition' with Fintechs
BBVA and BBVA Compass believe that collaborating with digital disruptors, or fintechs, is vital to advancing their own digital transformation. The bank actively supports the fintech ecosystem to build new, better experiences for customers.
The bank acquired neobank Simple in 2014. Acquisitions such as this represent part of the bank's strategy to lead the financial industry's rapid technology shift. They are designed to leverage fintechs' business models and strength in user experience to fuel the in-house development of new products and services.
For similar reasons, the bank also invests in startups. BBVA is the sole investor in venture capital firm Propel, which is focused on early- to late-stage investment opportunities at the intersection of technology and finance. Collaborating with Propel captures BBVA's approach to innovation: It is partnering with a business that is investing in the best fintech startups regardless of competitive interest.
The new core system BBVA Compass completed in 2013 also opened new business streams for the bank, one of them being the open platform. Instead of taking its real-time advantage and closing in to protect it, BBVA Compass has opened the platform to digital innovators. The possibilities for learning and improving the customer experience with open platform are virtually limitless.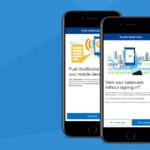 To twitter
The @BBVACompass #MobileBanking app has been recognized as an industry leader over the course of its lifespan.
Digital Solutions
BBVA and BBVA Compass are powering the digital transformation of the banking industry on the strength of their digital products and services. Each product and service the bank develops keeps the customer in mind, ensuring that the bank is delivering a needed solution for their financial needs.
Over the past several years, the bank has focused on delivering its products through digital means in an effort to provide customers with the quick and convenient solutions they need to stay in control of their financial journey. In addition to the ability to open all type of deposit accounts, debit cards and prepaid cards online, BBVA Compass recently began offering pre-approved applicants online account origination for both its premiere consumer loan, Signature Express, which features potential same-day closing and funding, and credit cards. Both of these products are slated to become fully available digitally to the open market late this year.
The bank also features an array of digital account solutions, including on-demand remote banking, its award-winning mobile app and financial monitoring app BBVA Wallet. In early 2017, BBVA Compass Insurance Agency, an affiliate of BBVA Compass, partnered with Boise-based Covr Financial Technologies, a digital personal insurance platform, to offer insurance seekers direct control over the insurance-buying process.
As BBVA Compass looks to further digital innovation, it does so with the understanding that the digital process is at its core powered by consumers. It is dictated by the desire to put clients in full control of their financial journeys.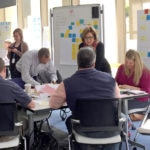 To twitter
Cross- functional and generational teams at @BBVACompass engage in #agileworking to identify and prioritize business initiatives.
New Culture
The bank has also dramatically transformed its culture along with its technology, adopting the techniques of Silicon Valley. At BBVA Compass Plaza in Houston, top executives, including the CEO, have eschewed offices in favor of open workspaces to encourage the free flow of ideas. The vast majority of the bank's core technology teams are using Agile methodology and lean development processes. Every quarter, hundreds of BBVA Compass team members look to those standards when they come together to set product and service development priorities in their Quarterly Planning meeting.
These changes have also meant the bank has had to think differently about how it attracts and hires technology talent. It has meant fostering agility and nurturing a startup mentality with error tolerance, an entrepreneurial spirit, and allocating resources to innovation.
Further, BBVA Compass is trying to redefine what development inside a bank means, opening in 2015 a $13.5 million Development Center in Birmingham, a workspace inspired by Silicon Valley and its agile, collaborative environments. Additionally, the Cross Industry Development Center in Birmingham's technology incubator Innovation Depot underscores the goal to work more like a startup company and collaborate on technology projects with other Birmingham companies.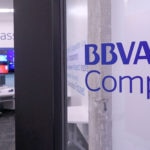 To twitter
Innovation Depot is @BBVACompass' #technology incubator where the bank collaborates and innovates with #start-ups.
To be a true agent of change in the U.S., BBVA Compass is embracing the digitization taking shape in the country's financial services sector
"To be a true agent of change in the U.S., BBVA Compass is embracing the digitization taking shape in the country's financial services sector by collaborating with digital innovators and converging technologies that add value to our customer's banking experience," said Pepe Olalla, head of Business Development at BBVA Compass. "We are breaking into fintech circles and becoming part of the revolution to deliver powerful digital solutions that help clients manage their money with ease and give them better banking experiences."