Garanti Bank is celebrating its 20th year at the forefront of the digital banking revolution, fulfilling its ambition to help customers bank when, where and however they want.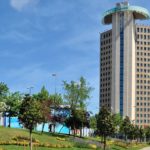 For two decades now Garanti, which is part owned by BBVA, has been playing a pioneering role in the digitization of the banking industry, delivering innovative products to its customers, forging a path for internet banking and investing in world-class technological infrastructure.
To mark the event, Garanti's CEO Fuat Erbil and Executive vice presidents Hüsnü Erel and Didem Dinçer Başer held a press conference to showcase the developments that have happened within Garanti over the past 20 years, to outline Garanti's current position, and to give a glimpse of what is in store in the future.
Garanti's CEO Fuat Erbil: "Our focus has always been to make our customers' lives easier
Describing the significant elements that have made up the journey, Fuat Erbil, said: "We began to take the revolutionary technological steps for the development of Garanti at the beginning of the 90's. Our focus has always been to make our customers' lives easier by integrating the latest developments in technology to banking services."
Referring to Garanti Bank's "firsts" in the sector, Erbil added: "In 1997, we started internet banking in order to bring the financial internet applications to our customers. In 1998, we even established a new service provider to expand internet usage and to minimize our customer's accession problems.
"By investing in both digitalization and payment systems, we introduced the first chip-based and multi-branded credit card, Bonus Card. In the following years, we were the first bank in the world to provide fast money transfers through our CepBank application. And, for the first time in Turkey we offered cardless bill payment and deposit transactions through ATMs."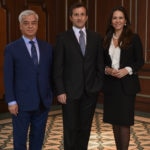 From left to right, Executive vice president Hüsnü Erel, Garanti's CEO Fuat Erbil and Executive vice president for Digital Banking, Didem Dinçer Başer. - Garanti
Hüsnü Erel, EVP of Garanti Bank, said: "All of our products and services developed within our technological infrastructure are based on: Simplicity, speed and reliability. Since the very first day of this journey, we use a synchronous infrastructure which reflects all operations instantly.
"With the help of this robust infrastructure that we began to build up 20-years ago, and which is being renewed constantly, we are able to respond our customers' needs that are changing in parallel with 'internet' and 'speed'.
He added: "Additionally, developing all the applications in-house is the reason behind the success of Garanti's adaptation of technology effectively. We have teams specialized in application development – including mobile, user experience, and large data analysis. One of the key differentiating capabilities of Garanti Technology is our ability to join up our business and technology teams as one unit through agile working methods, the same working model used by today's 'start ups'.
Hüsnü Erel, EVP Garanti: "We are able to respond our customers' needs
Didem Dinçer Başer, Garanti Bank's Executive vice president for Digital Banking, said: "Garanti Bank has been a sector-leading, pioneering and distinguished institution in the digitalization process throughout the past 20 years. Today we serve 5 million active digital customers and in addition, we have 3.9 million active mobile customers and 92% of all customer non-cash transactions are made through digital channels."
Başer added, "The golden rule in digital is to present a good user experience for customers regarding their needs and Garanti Mobile, which will be updated soon, is a fresh example of this approach. Garanti Mobile, which we re-developed after listening to our customers, aims to provide a more user-focused experience by giving them the fastest access to their accounts and card information, plus brings both up-to-date and frequent transactions to the forefront.
Didem Dinçer Başer, Garanti's EVP: "The golden rule in digital is to present a good user experience for customers regarding their needs
Başer, ended by giving a teaser about where the future lies.
He said: "Thanks to the Mobile Operations Assistant MIA, which provides voice banking, all banking operations can be performed with voice. Chatbot, which can be accessed via official Facebook Messenger account of Garanti, facilitates the credit calculation process by responding to questions regarding the credit and moves it to the application step. Eye Recognition allows our customers to enter Garanti Mobile by recognizing their eye structures and authorizes their login to the system. With GarantiPay, the mobile payment technology available at 130 member merchants, users can finalize their payments with BonusFlaş application without identifying cards and sharing card information."
Having led the way for the past twenty-years, and with no signs of slowing down, the next two decades look to be equally exciting.
Garanti is the top bank in Turkey by market capitalization (more than €9.8 billion). The group has 23,678 employees, 5,125 ATM and 1,131 branches, focused particularly in Turkey's Western region, which is the country's most developed. It is the second Turkish bank by customer deposits and loans, with market shares of 11.5% and 11.8%, respectively. It is the market leader in mortgages, auto loans and credit cards. Furthermore, Garanti is the best Turkish bank in terms of profitability, asset quality and capital. BBVA announced in February that it had increased its stake in Garanti by 9.95% to a total holding of 49.85%, having first invested in the bank in 2011.