The educational level of Spanish entrepreneurs has improved but the majority has only completed compulsory education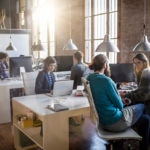 Training is a key requirement for the owners or directors of any business since it allows them to assume challenges, improve management and maximize market opportunities. Spain has made a major leap in this matter and is now slightly above the EU average. About 41.3% of Spanish entrepreneurs have a university degree as compared to about 40.1% in the rest of the European Union. However, Eurostat's 2014 data show that Spain is still behind France and Germany at around 54.1% and 49.5% respectively.
The study by the BBVA Foundation categorizes entrepreneurs as businesspeople, self-employed and professional executives. In the case of professional executives, there has been a significant improvement in their educational level since 74.2% have completed a university degree albeit their starting position was already good. The self-employed have registered the greatest increase. In the year 2000, only 17.6% of the self-employed had a university degree; in 2015, this figure went up to 35%. Nevertheless, most of the entrepreneurs have only completed compulsory education (around 36.9%), double the European average (18.1%).
Some differences
The education of businesspeople is much more directly linked to external factors than what we may initially think. Technologically complex, competitive and open to outside markets, large and medium-sized companies rely on a higher number of professional executives with good qualifications. On the other hand, with low exports capacity, less productivity and a greater number of competitive, technological and financial weaknesses, micro-companies tend to be led by less qualified entrepreneurs. In Spain, more than 80% of businesspeople at the head of companies of 50 or more employees have a university degree, whereas 29.9% executives of businesses of less than 10 employees have finished university.
As for women, they are less qualified but only account for one third of the entrepreneurs. Thirty-three percent of women hold executive positions; 34% are self-employed; and 30% are businesswomen with paid employees.
In addition to good qualifications, entrepreneurs must have financial skills to be able to lead a company and ensure its survival in the hardest economic climates. With regard to this issue, BBVA has set up several entrepreneurship programs such as Camino al Éxito and Momentum Project for the provision of financial training. During these sessions, entrepreneurs refresh or improve their knowledge about this matter and, as a consequence, have a positive impact on their company. Additionally, BBVA holds financial education programs for children and adults in most of the countries where it operates.