The beta testing process consists in making a controlled validation of an app in its beta version with actual users. in the case of BBVA, these users are, mostly, the company's own employees. If the people that work for a brand are always its best prescribers, who better than them to try out its products and provide feedback and comments before they are released?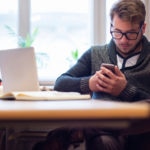 Beta testing has become a key process in the development of any software tool in BBVA, because beta testing platforms provide a high volume of feedback from both the target audience and specialized professionals. In this sample of informers, employees are widely represented.
The feedback gathered –consisting of first impressions, detected errors, desirable improvements, user-friendliness – allow project teams to ensure that the product they release is fine-tuned and fits the tastes and needs of the final user as closely as possible.
There are already more than nine thousand beta testers from 21 countries.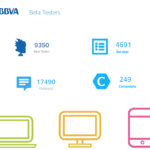 With this motivation, the Open Innovation team at BBVA's Innovation Center launched BBVA Beta testers, a simple and appealing platform from which any BBVA team can gather feedback on their apps, process and products, thanks to the collaboration of BBVA Group employees, external employees or the public in general. More than nine thousand people from 21 countries have already subscribed as beta testers in the tool.
Managers seek testers
The platform distinguishes mainly two types of users: project managers and beta testers. The first, are usually bank employees (also non-employees involved in related projects) that upload their apps or features to the tool, in order to get the best and fastest feedback.
Beta testers, on the other hand, try out the different available apps and share their feedback with the managers. In line with the spirit of the BBVA Innovation Center, 'anyone can be a beta tester: employees, customers, people that have nothing to do with the bank but who are interested in this kind of apps, generally of a financial nature,' says Marisol Menéndez, project manager.
Each user of BBVA Beta Testers has a profile that includes their personal details – nickname, age, country, picture – as well as some additional info, such as the system and the device model used to conduct the test, and the products that he/she is testing.
Anyone can be a beta tester, employees, customers, people that have nothing to do with the bank but who are interested in this kind of apps
These details are essential because based on them, on the one hand, developers can define the type of beta tester they want to test their app, and, on the other, the system can offer personalized suggestions to each tester regarding apps they could test.
Inside BBVA Beta Testers
Each platform project has its own page which is edited and kept up to date by its team of managers. This is where all the info is made available, regarding both the project itself and the corresponding campaigns. Campaigns are the means through which beta testers access the project testing option.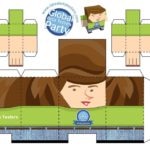 The manager defines the type of campaign required. Open to BBVA employees exclusively? The whole bbva.com domain including external employees? Maybe it is best to open the campaign to the general public and cherry-pick from the testers that sign up. Another choice is to send invitations to some specific users only, if a very narrowed down response is what we are looking for.
There are several ways in which users can submit their opinion on the apps. One of them is by clicking on the "Feedback" button and reporting errors, suggesting improvements, making questions and submitting ideas, if any. Another way to provide feedback is by filling out the surveys associated to each campaign. Some are mandatory, some are voluntary.
Testers need to notify the system and device model they are using to conduct the tests, and which products they are testing.
Building karma
In parallel to all the aforementioned processes, the platform is equipped with an exclusive award system, which allows users to earn points. These points translate into karma and badges, depending on each user's accomplishments as beta tester. The karma defines the status of the beta tester and depends on the points earned. Points can be earned through specific actions. The number of points earned changes depending on how hard actions are; for example, concluding the app test process, filling out the mandatory surveys, creating incidents or making comments.
Badges, on the other hand, are obtained after accomplishing certain goals, such as submitting a high number of comments, or testing many apps.
If you are interested in becoming a BBVA project tester, please visit BBVA Beta Testers. If you believe that you have what it takes to become a great app developer, please visit  BBVA Careers.