Francisco González: "BBVA is already thinking of the next five to 10 years"
BBVA's Board of Directors held this wednesday its monthly meeting in Barcelona. The previous day was taken up by a series of working meetings on the bank's digital transformation. The Board also went over developments in its franchise in Catalonia and agreed to modify the composition of its committees.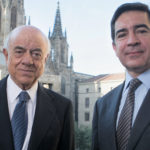 BBVA's Board of Directors today held its monthly meeting in Barcelona. During the previous day, the Board held working meetings with executives from different areas to study the progress made and the next steps to take in implementing the bank's strategy.
BBVA Executive chairman Francisco González assessed the current situation at the bank: "We are at an incredible moment for BBVA. The Group has been working for over a decade in its transformation and we are already harvesting the fruits of this. But we can't stop there and we are already thinking of the next five to 10 years."
The issues addressed during the session included the growing importance of data in the banking business as well has the high potential in the long term of exponential technologies such as blockchain. BBVA has been a pioneer in this area with several proofs of concept and pilots such as the first corporate loan in the world using blockchain technology, which BBVA closed in April with Indra. The new ways of working based on agile methodologies and their key role in adapting to future challenges were also on the agenda.
The Board also took the opportunity to go over the earnings performance of the Group and in particular its franchise in Catalonia, which accounts for about 20 percent of its portfolio in Spain. "We are happy with the performance of earnings in Catalonia as well as in Spain as a whole," said BBVA CEO Carlos Torres Vila. "The progress made in digitization in Spain is exemplary as shown by the fact that for the second year running the BBVA mobile banking app led Forrester's rankings in Europe."
At the end of March, the BBVA Group had 24 million digital clients of whom 19.3 million access services using mobile devices. The target is for 50 percent of customers to be digital by the end of 2018 and to have the same ratio of mobile customers in 2019. This has driven digital sales, which in May reached 40 percent of the total, almost triple the amount of two years ago.
BBVA's Board of Directors also approved changes to the composition of its committees in order to give entry to the independent directors named at the Annual General Meeting on March 16, 2018, in order to reinforce the independence of the committees.
The composition of the committees is as follows: