Francisco González: "The future of banking is decided in places like this one"
BBVA Chairman & CEO Francisco González pointed out the dramatic impact that technology is having on the transformation of the financial sector during his speech at the Mobile World Congress in Barcelona. "BBVA will be a software company in the future," said Francisco González, who anticipated that BBVA will compete in the new digital ecosystem.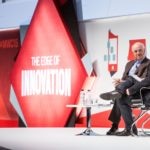 Francisco González recalled that the bank embarked on its "digital journey" eight years ago. During this time it has made significant investment to build a new customer-centric technological platform, which operates in real time and is also modular and scalable. This platform allows BBVA to develop a new generation of services to compete with new startups and major digital companies.
"The mobile has emerged as the driving force for disruptive innovation in banking," the BBVA Chairman said. Francisco González argued that the financial industry must respond to users' new needs, with instant services, available anytime and anywhere, which are customized and totally transparent, regardless of the device being used.
The number of BBVA mobile customers has increased 14-fold in three years and totaled 4.3 million at the end of 2014. Francisco González underlined the success of mobile payments app BBVA Wallet, which already boasts over 450,000 downloads in Spain and is poised to be rolled out in Mexico, the U.S. and Chile. "It's the world's most-used cloud-based NFC payment app," the BBVA Chairman pointed out.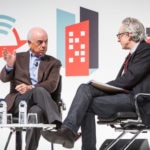 Francisco González also devoted part of his speech at the Mobile World Congress to assess the main challenges facing the financial industry, which include regulation, cyber security and personal data protection. According to the BBVA Chairman, the role of regulators will be key in accelerating or holding back the digitization of the banking sector.  "We banks are perfectly aware of the importance of security and privacy; it's in our DNA," he added.
Francisco González finished his speech by pointing out the business opportunity that the U.S. represents for BBVA, given the combination of the most digitized society in the world and a rudimentary retail banking industry. "There is a huge gap that must be filled, and BBVA will be the one to do so," he said.