Women still have a long way to go in Latin America and data is the key to driving social policies than will put an end to inequality. This was the principal conclusion reached by the Fundación Microfinanzas BBVA, (Microfinance Foundation BBVA) during its participation in CSW61, the largest United Nations meeting on gender inequality and the empowerment of women.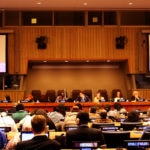 The 61st session of the Commission of the Status of Women (CSW61) took place during March at the headquarters of UN Women in New York. The meeting consisted of two weeks of encounters, debates and conferences, all focused on the situation of women in the job market. This is a complex topic in which unfortunately, the social, salary and gender gaps continue to present obstacles to equality. The difficulties are many: unjust employment conditions, the underground economy, negative gender stereotypes, a lack of work-life balance, a lack of job promotions at work and unpaid work at home, to name just a few. But not only were the problems discussed – solutions were also being offered.
Measuring reality in order to change it
One of them came from Laura Fernández Lord, head of Women's Empowerment at Fundación Microfinanzas BBVA (FMBBVA), who spoke during the panel on challenges and progress in implementing the United Nations' 2030 Agenda. She had a very clear message: " We must empower women economically if we want to comply with the 2030 Agenda. The first step is to be rigorous with data." The Foundation preaches by example; it measures the economic and social performance of entrepreneurs, in order to personalize the offer to their specific needs. "It´s impossible to recognize progress without data or to promote appropriate solutions without continual statistics," Fernández Lord explained.
The data are objective and they provide FMBBVA the information necessary to strengthen the role of women entrepreneurs in Latin America, where they account for 60% of the 1.8 million people whom the organization assists in the region. The figures speak for themselves: "Our entrepreneurs account for seven out of ten of the customers who have emerged from poverty during 2016." What´s more, they do so with fewer resources; with 50% less invested capital than men, their surpluses are 20% higher.
In spite of the positive data, the situation continues to be worrisome. According to UN Women, in Latin America, 56.4% of women participate in the work force, compared to 85% of men. In this context, the treatment of data is key to promoting social policies that are adapted to the reality of women. As Andreas Glossner, vice-chairwoman of the CSW61, has said: "Improving the access to, and use of (data) is crucial to achieving the Sustainable Development Goals."