Garanti BBVA selects 10 social entrepreneurs to participate in BBVA Momentum 2019
In collaboration with Impact Hub Istanbul, the 10 social entrepreneurs will participate in online and classroom-based learning that will contribute to their business growth plans, and strategic mentoring-support and networking activities that include other entrepreneurs, customers and investors.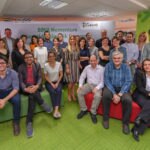 The BBVA Momentum social entrepreneurship support program aims to help social entrepreneurs who want to generate high social impact through sustainable business models, and the program's annual application process has just come to an end. On May 21, 10 social enterprises were selected by the jury to take part in BBVA Momentum's 2019 program and to benefit from the training and other opportunities offered by the program.
Together with Garanti BBVA's SME Banking and Responsible Banking senior executives, a jury consisting of BUBA board member Neda Soydan, SUcool coordinator Naci Kahraman, Workinlot founding partner Atilla Erel, REENGEN founding partner and CEO Şahin Çağlayan, Startup magazine editor Ayçe Tarcan Aksakal, and Impact Hub Istanbul founding partner Ayşe Sabuncu selected the following applicant social enterprises: Tutumlu Anne, Mumo Wrap, Es Kariyer, Batır Gıda, Pulsec, NemFlora, Maide Mutfak, Sertifier, Twin Science&Robotics, and Puduhepa ve Kız Kardeşleri. The BBVA Momentum Social Entrepreneurship Support Program's new period will begin on Monday, June 24.
In a statement about the program, Garanti Bank Executive Vice President Cemal Onaran said: "At Garanti BBVA, we have been working on numerous entrepreneurship projects for many years. In recent years in particular, we see clearly that social initiatives aimed at creating sustainable business models while also producing solutions to social and environmental issues are rapidly increasing around the world as part of a global movement. We too have decided to support the BBVA Momentum social entrepreneurship support program, which forms part of this movement contributing to the development of a social entrepreneurship ecosystem in Turkey."
To date BBVA Momentum has supported 515 social companies, with the collaboration of more than 300 BBVA mentors and specialists. This year, the program aims to set a new record for participation. Almost 1000 entrepreneurs worldwide applied tojoin BBVA Momentum 2019,  a 13 percent increase compared to 2018. This group of companies forms a varied mosaic that perfectly reflects the social and environmental issues prevalent in our global society.
BBVA Momentum's 2019 Social Enterprises in Turkey:
Batır Gıda
This company produces a range of authentic, innovative and nutritious hazelnut pastes that supports local farmers and producers while promoting a healthier lifestyle. It also produces vegan hazelnut oil, which is free from additives, artificial flavorings and refined sugar.
Es Kariyer
Es Kariyer creates more sustainable employment opportunities for disabled employees. As Turkey's first and only disabled employment consultancy firm, it has been providing consultancy services to both companies and disabled employees since 2016, and also operates as a private employment agency working with the Turkish Employment Agency (ISKUR).
Maide Mutfak
Maide Mutfak aims to employ migrant women and contribute to their social cohesion. The Maide team gives these women a variety of training sessions, from financial literacy to photography, and helps to transform them into entrepreneurs.
Mumo Wrap
Mumo produces fabric soaked in wax, pine resin and coconut oil to use as alternatives to freezer bags and cellophane wrap, aiming to provide healthier, safer and reusable food preservation products.
NemFlora
NemFlora is a SaaS initiative that focuses on soilless agriculture, which enables people to produce healthy products in their living areas, while simultaneously bringing producers and consumers together over a technological infrastructure. The company's products are made of recycled fabric and cardboard, and it is also working on an agricultural recycling project that enables used products to be returned to an agricultural ecosystem, minimizing waste.
Puduhepa ve Kız Kardeşleri
The purpose of Puduhepa ve Kız Kardeşleri is to support the growth of girls in Turkey into self-confident, independent individuals. In doing so, they use success stories of women from Anatolia as a source of guidance. The income from projects that allow women to work from home is then reinvested back into the education of young girls.
Pulsec
Pulsec offers more efficient solutions in electronic waste management. It saves reusable, functional and valuable parts from being sent to landfill. As this approach is more environmentally friendly than recycling, it reduces the negative impact of carbon emissions on the planet.
Sertifier
A platform that emerged only recently, Sertifier ensures the safe digitalization, distribution and storage of all kinds of documents. It establishes a QR code and serial number for each document, and then creates a secure system for checking the created documents via an inquiry page. Documents are saved and stored on digital media, which saves time, money and materials and benefits both the user and the environment.
Tutumlu Anne
tutumluanne.com is Turkey's first and largest second-hand mother-and-baby and children's product website, and it brings together thousands of mothers who want to buy and sell almost-new, branded products on a safe, secure platform.
Twin Science&Robotics
Twin is an entertaining and instructive robotics and coding set that enhances children's imagination and is committed to providing every child with access to science, with a vision of equal opportunity in education. What's more, as part of the Science Mobilization project implemented by the YGA (Young Guru Academy) and the Ministry of National Education, Twin sets are sent to village schools that are in need of science equipment.
BBVA Momentum has supported 515 social companies, with the collaboration of more than 300 BBVA mentors and specialists. This new edition aims to reach a new record of participation. At global level there are almost 1000 entrepreneurs to be part of BBVA Momentum 2019, which represents an increase of 13% compared to 2018. All these companies are coming from a varied mosaic that perfectly reflects the social and environmental concerns in the global society.