BBVA Momentum, BBVA's program to support social entrepreneurship, is celebrating record high participation rates. The number of entrepreneurs applying from Colombia, the U.S., Mexico and Turkey surpassed all expectations.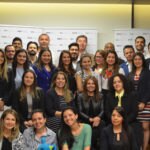 954 entrepreneurs have applied to participate in BBVA Momentum 2019 - a 13 percent increase from 2018. In total, Colombia received 287 applications, the U.S. 122, Mexico 503 and Turkey 42. 496 of these applications were completed correctly and will move on to the next stage of the selection process.
Variety and quality 
As in previous editions of BBVA Momentum, a wide range of entrepreneurial endeavours were presented from sectors such as commerce, food, healthcare, telecommunications and much more.
It is not without significance that the sector with the most valid applications was "other industries", or companies that do not fit in common sectors, due to the diversity of projects presented. 130 projects were classified in this category, 26.26 percent of the total. They are followed by education, with 23.8 percent, energy, utilities and the environment (18.59 percent) and healthcare activities and social services (14.55 percent).
Companies that create solutions 
Environmental protection and the fight against climate change are priorities on a global scale, and this was reflected in the "ranking" of 2019 BBVA Momentum applications based on the social issues they aim to address. Companies creating solutions in the environmental and rural sector top the list with 43.03 percent of the applications. They are followed by those working for diversity (people suffering from exclusion, minorities and disabilities) with 33.54 percent of inscriptions; education (access to education and skills) with 31.92 percent; and digital solutions with a high social impact (26.87 percent).
During the application period, BBVA Momentum 2019 launched a social network campaign to boost its impact in digital channels. During this campaign, the program's website received over 100,000 visits and 57,478 people registered as users. This represents a 70 percent increase from the previous year. As a result, the program reached a greater number of interested people, who could get more information and present their application.
But the journey has just begun. Local BBVA Momentum teams are reviewing the applications to determine which ones will go on to the next stage in the selection process. At the beginning of June, members of the juries from each country, who have been tasked with the final screening, will announce the names of the companies that will participate in the latest edition. The reward will be worth it. Selected entrepreneurs will enjoy a complete five month program that includes training, strategic support, financing, collaboration, networking and visibility. It is impossible to predict who the finalists will be, but we can say that their experience in the program will boost their companies' growth and be a unique opportunity to increase the positive impact they have on people's lives.