BBVA's Turkish unit has been recognized as the 'Best Retail Bank' in the country for six consecutive years. It has also been named 'Europe's Best Retail Bank' for the third time.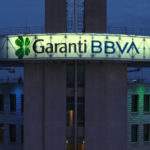 Garanti BBVA, which leads the sector in Turkey with innovative services and products in retail banking, was recognized by World Finance Magazine as Turkey's 'Best Retail Bank' for the sixth year in a row. It was also named 'Europe's Best Retail Bank' for the third time by European CEO Magazine. "We are proud to once again be named the best retail bank in Turkey and Europe. We will continue to offer the best service and products to our customers," Garanti BBVA Executive Vice President Mahmut Akten said.
Garanti BBVA has 18 million retail banking customers, 8.8 million of which use the bank's digital channels to do their banking. In 2019, the bank added 1.2 million new retail banking customers and also helped over half a million customers become homeowners. And, thanks to its Green Mortgage it has been able to provide 379 million Turkish lira in financing for environmentally-friendly buildings. The bank launched its green mortgage, the first of its kind in Turkey, in 2017.
We will continue to offer the best service and products to our customers
Responding to the accolades, Akten emphasized the bank's pioneering spirit in the area of technology, saying, "At Garanti BBVA, we are working to provide the best service to our customers with our superior technological infrastructure. Our technological advantage puts us on the forefront of digital banking, and our customers can access almost every product and service we offer via online and mobile channels."
The Garanti BBVA executive also stressed the bank's customer-centric approach: "We focus on customer satisfaction and loyalty, developing products and services for any platform our customers use and with a vision of providing our customers a flawless experience. We constantly seek to enhance the customer experience."
With COVID-19 causing worldwide concern, ensuring a healthy environment for customers and employees alike is also a priority for the bank. Akten credited innovation with the bank's ability, "to provide safe and uninterrupted service to our customers." He explained that "by keeping abreast of the conditions in our market and leveraging our digital infrastructure, we have been able to continue providing exceptional service."