Garanti BBVA's Forward product reduces foreign exchange risks of businesses
Garanti BBVA offers its clients an advanced long-term currency transaction service through its Forward product, available on its website's business section.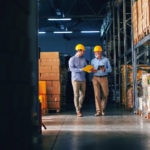 The Forward product has become the go-to option for corporate clients in the import and export sector, as it offers them the possibility to obtain a predictable cash-flow despite exchange rate fluctuations. This product also allows them to carry out currency transactions with a fixed exchange rate established at the time of the transaction, but which becomes effective on a future date chosen by the client.
Businesses managing streams of income and expenses in different currencies can control their cash-flows thanks to the price-fixing feature and offset the impact of shifting exchange rates. This allows them to operate more safely and grow their profits, thanks to the predictable, stable and uninterrupted cash flow they can secure.
Garanti BBVA also offers clients resources of reference concerning the exact price of certain maturities on Forward's pages on the website's section for business clients. Thanks to the Forward product, clients can reduce, even eliminate the financial risks affecting their trade activities.