Garanti BBVA makes it easy to obtain digital passwords without having to visit a branch
Users without a bank or credit card can easily receive a new password by logging on to Garanti BBVA Mobile with their new ID.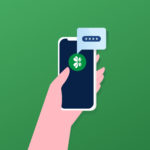 Garanti BBVA closely follows technological advancements in relation to the products and services its app can offer. Now, users with NFC (Near Field Communication) enabled phones will be able to easily obtain a password in just one step on Garanti BBVA Mobile.
Users who do not have this feature on their phone will be able to see their new ID via the phone's camera and have a short video call with a customer representative to verify their identity and create an access password.
At the beginning of the pandemic, the bank already offered a video call service so that customers without a bank card could receive a password remotely. Now, it´s much faster and easier for users to get one without having to contact the call center or go to a branch office. This new service offered by the bank allows customers who have not benefited from Garanti BBVA´s digital features to be able to immediately start using the mobile application.