BBVA Compass Atascosita Branch Retail Executive Liz Zweifel recently said of the bank's efforts around mobile engagement, "It's important to make sure our customers understand we aren't pushing them away, we just want them to have access to another resource and another connection."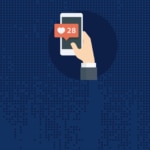 In the drive to using digital as a means to enhance customer experience, BBVA Compass branches have become integral to helping customers understand all the tools available that help them manage their finances. Key to this has been the bank's mobile app, for which the Channels team developed its Blue Maverick curriculum - a training which each member of the branch uses.
As we hear below from Branch Retail Executives, enhanced understanding of the mobile app has made a world of difference for both customers and the branch.
Included below are thoughts from:
Q: Do you think this training helped you become more of a technology facilitator?
Cooper: Yes - honestly, I walked in somewhat dreading the idea of time the class was going to take. I thought I was well read in mobile banking, but I learned so much for myself and to share with others. I walked out so grateful to have the opportunity to be invited to learn what I thought I already knew. Michael made it fun to learn, I shared with my people and my demos have gone up since taking the class.
Zweifel: Definitely - I wouldn't have called myself that before, but I learned a lot that I thought I knew. After the class, I was able to huddle with my team around the topic, and shared some of what I learned. In fact, a customer came for a home equity advance, and I mentioned to him that he could request this through his mobile app. He was so excited.
Q: How are your clients responding to the mobile demonstrations?
Cooper: I've actually had the most positive feedback from the financial tools functionality. I had no idea it existed and I've been able to show customers budgeting and categories from the Financial Tools functionality. There are so many people I could have helped before the training had I known more about them.
Zweifel: Our clients are typically very open minded and excited to learn. We tell them we want them to come see us too, but for the times when you're out of pocket or we're closed, we want you to have access. We find that many already have the mobile app, but weren't using it because they were uncomfortable with the technology, and thought it was more difficult than it is.
Vicente: When we demo mobile, it gives our clients a much better understanding of the app and its features. They see a lot of benefit with mobile deposit and alerts, both of which give them a lot of latitude to conduct their financial lives using this tool. They also love the paperless option, because mailed statements can be a target for fraudsters.
Q: Has being more familiar with the mobile app made a different in how they manage their finances?
Cooper: Yes, both our customers and employees are excited about it. At the end of it all, I'm here to help customers. And when they understand how the app can help them, it's a win-win for all of us.
Zweifel: I came back that morning after class and I literally told my team, "Oh my gosh, you guys have no idea how much you don't know about the mobile app." Most people love the ease of being able to check on things and to do day-to-day transactions, but they don't necessarily dive into the other aspects of the app. All of those things they don't assume are there so they don't look. Only as a result of the class are we able to show them these things. We try to send somebody to the class every time we have the option.
Vicente: Absolutely. With the mobile app, they can figure out their finances before they make purchases, and it helps them make decisions in the moment.
Q: What is the best functionality the app has for customers?
Cooper: The ability to look at historical bank statement, or pictures of withdrawal slips and checks is the main thing that helps most customers. Now, we can advise them they can get a copy of their check on their mobile and don't need to make the extra trip. But, personally, my favorite feature is financial tools.
Zweifel: Access to records. When people need bank statements, the fact that they are all there is huge. It makes life easier for them.
Vicente: I think it's alerts. You can set them up to get deposit notifications, transaction alerts which helps them manage fraud or simply advising them of what is going out of their account. Alerts help clients manage their finances more closely.
Q: Why is this training important for branches?
Zweifel: It's important to make sure our customers understand we aren't pushing them away, we just want them to have access to another resource and another connection.
Vicente: So we can share more options to our customers that we didn't know about - pass it on to customers, more knowledge of online and mobile banking.
Q: Why do you think customers hadn't used the mobile app more before the demo?
Zweifel: Some of it is security concerns, but truth be told, I think more often than not they don't trust themselves or they're not super techy. They just don't want to be embarrassed.
Vicente: Some people are scared of having their personal information on the internet. A lot of people think there is fraud, which I can understand, but we explain it so they understand that this isn't like that and it's a secure tool that helps them manage their finances.
---
Read other articles in this Digital Engagement series:
Digital Engagement Matters: The Mobile App
Digital Engagement Matters: Track, Verify, Personalize with BBVA Compass' Mobile Engagement Tool, BankerDemo