You've lost your wallet. You start to panic, thinking about the debit and credit cards it contains. The panic slowly starts  turning to dread knowing how much time you'll spend trying to rectify the situation.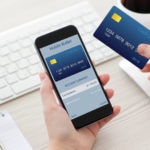 But then, a ray of light! You realize that you use your bank's digital wallet app, and suddenly the situation doesn't seem so bleak.
The number of digital wallet apps have proliferated in recent years, and the safety and convenience that come with using one is in part why. Not convinced? Read on.
So, what exactly is a digital wallet?
A digital wallet is essentially the computerized form of your real life physical wallet. With it, you can store your financial information, such as credit and debit card numbers and other personal information.
Some digital wallets allow mobile payments through near field communication (NFC) chips, where at checkout, a customer need only open their digital wallet, select their card and hold up to the point of sale device.
When you think digital wallet, think physical wallet, but accessible on your mobile device.
Ok, I get it, but why would I carry a physical wallet and use a digital wallet too?
The real question is, why wouldn't you? Some digital wallets, like the U.S. version of BBVA Wallet, do not yet allow payments through the app, and many stores don't have the technology enabled devices for digital wallet sales. Even so, the digital wallet capability is hugely important. For one, digital wallets require authentication, which means without a pin, password or fingerprint, it's challenging at best to get the information stored in them.
And for others, like BBVA Wallet, if your physical wallet does get lost or stolen, you can block the cards directly from the digital wallet app, even having them reissued to your home address.
Good security. I like that. What else do I need to know?
Digital wallets can make tracking your spending easier. Because the app aggregates your card information, you can see at a glance where your balances stand for both checking and credit cards. Some even send you an alert any time a transaction is made on any of your cards, which is at once helpful for budgeting, but also a great safety feature.
Depending on your specific digital wallet platform, you may be able to get rid of some of those pesky plastic reward cards, too. Some allow storing of these cards in the app, allowing you instant access at checkout, and up-to-date information on where your rewards balances stand. Others, (hello, BBVA Wallet!) even let you redeem rewards on the spot at any merchant.
Alright. Let's say I'm a BBVA Compass customer. What do you have for me?
Glad you asked! The BBVA Wallet is an app to track and manage your BBVA Compass credit and debit cards.The U.S. version of the BBVA Wallet provides many of the aforementioned capabilities, and even some others that make managing your finances easier and more convenient.
More information on the BBVA Wallet can be found here, and a few of the coolest BBVA Wallet features are listed below to whet your appetite:
Keep track of all your purchases in real-time and keep them organized on the go
Activate BBVA Compass debit and credit cards
Make your BBVA Compass Credit card payment
Change PIN on your BBVA Compass cards from your Wallet app
Report a lost or stolen card in a flash or temporarily block transactions if you misplace your card
Redeem rewards in real-time at any merchant*
Receive custom offers to earn cash back based on how you spend with Simple Cash Back℠
Disclosures
*Redemptions of CompassPoints through a BBVA Wallet transaction alert can only be conducted within 24 hours of receiving a transaction alert. Alerts for card transactions and ‭reward redemption are subject to service availability to your mobile device and cannot be ‭guaranteed by BBVA Compass. Alerts are subject to merchant billing practices and may not be ‭received until your card is charged for the purchase price. An inventory of points must be ‭available in the account to redeem.‬‬‬‬‬‬‬‬‬‬‬‬‬‬‬