B2BPay, winner of BBVA Open Talent Global Fintech for Companies Competition
BBVA has today named B2BPay as the winner of its Open Talent Global Fintech for Companies competition. From hundreds of entries into this specific segment, the team of judges selected B2BPay as their champion because of the way their solution enables SME businesses to grow internationally and trade with greater ease.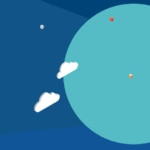 B2BPay, which is based in Finland, describes their product as a "B2C product - virtual bank accounts for companies that export into Europe. We provide SMEs that export to Europe with Virtual bank accounts."
Their solution gives companies, once the required due diligence checks have been cleared, a virtual IBAN number for a virtual bank account. That bank account can then be used to receive payments from other companies across the EU with the funds then transferred to the company's local bank account.
B2BPay explains how their solution reduces red tape and speeds up transactions: "Your customer in Europe can make a simple SEPA payment. Euro payments in 35 European countries are handled without any fee (in most cases, or a nominal fee if there's a fee) and SEPA payments are usually settled the next business day. We have negotiated a deal with our FX partners to secure our customers the best deal."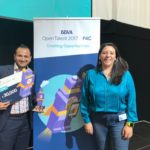 Fintech for Companies winners during the event at London's East Wintergarden in Canary Wharf.
The BBVA Open Talent Fintech for Companies challenge was launched in March as part of BBVA's wider Open Talent competition – the biggest fintech competition in the world.
Open Talent features challenges focused on AI, Identity, Women in Fintech, Financial Inclusion, and specific challenges for 11 countries around the world.
In addition BBVA Open Talent is running a Global Trends competition aimed at finding the very best fintech solution, on any topic, from anywhere in the world. The winner of this element will be announced later this month at the Next Money Chicago conference.
The announcement
Today's announcement took place in front of dozens of people at an event staged especially in London's East Wintergarden in Canary Wharf.
Earlier in the day the 10 finalists also had the chance to pitch their winning solution to both the panel of judges and equally importantly, the wider audience of partners, investors and potential customers.
This aspect was hugely valuable for the start-ups as securing customers so their business can grow is one of the main issues for new fintech businesses, and is a key area where a global bank like BBVA can help.
Commenting on the winner, BBVA Head of Open Talent, Marisol Menendez, said: "We had dozens of very strong entries for this new category of Fintech for Companies and it was a challenge to select the top ten ideas for the final. All ten of our finalists have developed genuinely ground-breaking fintech solutions for the business sector, and celebrating this area of fintech has been both important and rewarding for BBVA.
"For the judging panel, B2BPay really stood out as an exceptional solution that will help the SME sector grow and build their international customer base - which is a key driver of global economic growth. The BBVA Open Talent competition is designed to be a platform for the fintech sector to partner start-ups as they get off the ground, seek funding, grow and connect to customers and we are pleased that today's announcement will help B2BPay in this."
The finalists
Below are the BBVA Open Talent finalists along with links to their websites and their own description of what they do:
Akoni: Akoni is a digital cash treasury manager, maximising returns through the portability of cash and cash management tools.
Asteria: Asteria is a new and easy way to truly understand your Cash Flow and make it Smart.
Bitbond: Bitbond leverages blockchain technology and automated credit scoring to make SME loans globally accessible to borrowers and investors.
Cardlife: Cardlife is a Fintech B2B startup. All your business SaaS subscriptions in one. We're building the future of B2B SaaS
Control: Control is a leading transaction analytics and alerts platform for SaaS, subscription and eCommerce businesses.
Invoice Capture: Invoice Capture is an autonomous and automatic SaaS allowing companies to do collections procedures without any human intervention
MyFinB Holdings: MyFinB can potentially help 118m businesses worldwide convert their financial statements ~ into narrative insights for better, quicker decisions.
PayBlocks: PayBlocks is the autopilot of accounts receivable and payable, to help companies and corporations get their ERP to fly.
RedCapital: RedCapital.cl is a web platform that connects investors with SMEs that require loans and are very expensive to attend by the Bank.