Derek White: "We innovate using methodology from Google, Amazon and Facebook"
BBVA's Global Head of Customer and Client Solutions, Derek White, has been interviewed by leading Spanish newspaper Expansión.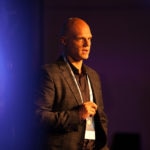 In the interview the BBVA executive, Derek White, outlines the cultural changes the bank has had to go through as it continues its transformation into a digital business, but also the ease with which this has happened thanks to the positive ethos within the business.
White also outlines how changes in practice have seen the bank's creation cycles reduced dramatically, with the time from idea conception to into the hands of customers now often less than 9 months, compared to an industry average of in excess of two-years.
The man charged with leading BBVA's creation unit also explains the insights the bank takes from Silicon Valley, and the actions it is taking to fend off the threat from the big tech giants of Apple, Google, Amazon and Facebook.
Part of this include the start of BBVA's drive to deliver truly global products and services which deliver world class customer experience, like the bank's new BBVA App, which launched a month ago in Mexico and will soon roll out across the Group.
To read the full article, visit their website.