BBVA has named the three global finalists in the 2019 BBVA Open Talent competition
More than 750 applicants from in excess of 90 countries applied to the world's biggest fintech competition this year.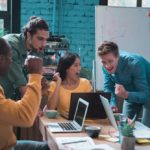 And after several months of assessment and the involvement of business units from across the BBVA Group, BBVA Open Talent has whittled the potential winners down to just three.
In no particular order, they are:
Cobee simplifies the process for companies when it comes to organising flexible compensation for employees. The Cobee system automates and centralises all the products offered to staff into one easy to manage and use app.
By making access to these services quick and simple, it helps adoption rates - the company says up to 80 percent - and saves up to 99 percent of administration time.
Services centralised can range from meal supplements or travel vouchers to childcare, training and medical insurance.
Employees can then use the same card and app to access what they want, when they want it.
Slyp (Australia)
Slyp is designed to do-away with the need for paper receipts, by offering a universal connected digital receipt that works for its users.
The secure system is linked to bank accounts, so when you shop at a Slyp enabled retailer, customers then receive a bank or SMS notification of every purchase, which they can then view or engage with on the Slyp Smart Receipt system - including filing it and saving it for later usage.
Slyp's sustainable vision is to eliminate paper receipts for good, which the company says could save up to 51 million trees annually, as well as 19 billion litres of water - and to give further context, Slyp states how a year's worth of the world's annual receipts stretched end to end would reach to the Sun and half way back.
Pineapple's vision is for instant, fair, personal, digitally enabled comprehensive insurance for everyone.
The company offers per-item insurance, enabled through a smartphone picture of the items needing insurance, offering instant coverage, globally - whether for theft, damage, flooding or even power surges, done 24/7 via their app.
The USP for Pineapple is a fixed fee model, with leftover premium shared back amongst members, which is returned to your Pineapple wallet for you to do with as you wish.
And because you only insure the items you want to have coverage for, it can reduce the cost associated with general all-things coverage.
The overall winner will be announced at the BBVA Open Summit in October
While again this year BBVA Open Talent received entries for the competition - now in its eleventh year - from across the board in terms of subject focus, there were clear trends in the products and services being developed.
Top of the general list were mobile app based solutions aimed at either personalising the way in which consumers can interact with their money and bank accounts, or that aim to better organise data so people can understand their finances.
This push towards advisory-focused services is a leading industry trend, and something BBVA has been advocating for a number of years as a key differentiator in the market. BBVA's Valora service is a strong example of this, weaving in both in-house and externally sourced data sets to better advise customers before they make a house purchase.
Another key theme this year - and indeed the past few years - has been the integration of Artificial Intelligence solutions into banking services. This year that trend continued in force with close to fifty of the startups entering the competition using AI in their solutions.
Blockchain-based technologies also - again - featured heavily in the line-up, with more than forty entrepreneurial businesses using DLT as the backbone to their products.
Payments, personal finance management and lending-gaps were the other top contenders.
However the judges - including senior BBVA executives such as Global Head of Retail Customer Solutions Gonzalo Rodriquez and Global Head of New Digital Businesses, Ian Ormerod - agreed after in-depth analysis of the finalists solutions and technological prowess, that these three were the top contenders for the prize.
The overall winner will be announced at the BBVA Open Summit in October, and will receive a €100,000 prize as part of a wider partnership programme run through the BBVA & Anthemis Venture Creation Studio, which will also include integrated support, experience sharing and advice from across the BBVA Group.
All three finalists will also get access to the BBVA Open Talent Accelerator programme, together with the winner from the separate Sustainability award, and the 10 finalists from the Open Talent Spain competition.
The accelerator programme is run in conjunction with the Instituto de Empresa in Spain and the Financial Times.