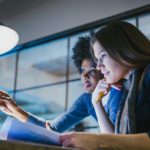 More than 800 start-ups from across the globe have entered this latest edition of BBVA Open Talent, with 90 countries represented. From that list 56 have now been shortlisted as national finalists, all of which come from BBVA's core operating countries.
Among the entries seen this year were new ways to protect digital identity and DLT secured payment systems, as well as short term insurance solutions and experience management platforms.
Entries also came in for innovative solutions like P2P hiring for cars and motorbikes, KYC (know your customer) cloud-based solutions for smaller businesses to minimise fraud, and an app that monitors how sustainably someone lives their life and rewards them financially for taking positive action.
There were also business focussed entries, like a digital intermediary for B2B mortgage brokerage, crowd-sourcing investments into products and a virtual prepaid loyalty scheme for dedicated vegan businesses.
"The quality of submissions to the competition this year has been outstanding, and it shows the breadth and depth of the fintech sector globally"
During the next weeks, the set of national finalists will be invited to a pitching session in front of the audience and BBVA decision-makers in their home countries, where they will compete to become national winners.
As national winners, the startups will be able to join the bank's accelerator programme. The startups will also be invited to present their projects during the BBVA Open Summit, which will take place in Madrid the 24th October.
Fintech accelerator program
For the first tranche of finalists selected, five come from Argentina, eight from Peru, six from Turkey, four from Paraguay, 10 from Spain, 10 from Mexico, 10 from Colombia and 3 from Uruguay. Further finalists from the USA will be selected in the coming days.
A second shortlist of entries at a global level is now being produced and will be announced in September. The global finalists will compete against each other during BBVA Open Summit to become this years' global winner and obtain a prize money of up to €100,000.
Commenting, Ainhoa Campo - head of BBVA Open Innovation - said: "BBVA Open Talent is our way of finding the most innovative solutions and businesses on the planet and driving them forward, working together to foster growth and bring new products and services to our customers and colleagues.
"Once again the quality of submissions to the competition this year has been outstanding, and it shows the breadth and depth of the fintech sector globally. We have selected what we believe are the best ideas around and the ones that best fit the needs of our customers and clients, but the sheer number of ideas being built out there shows the strength of this sector."