The time has arrived for a new round of BBVA Momentum! BBVA's social entrepreneurship program returns in 2019 with its most ambitious target to date: to support 160 social entrepreneurs across Colombia, the United States, Mexico, and Turkey. It aims to foster their growth and increase the positive impact they make on their communities. The candidate application process for the 2019 program closes on April 22.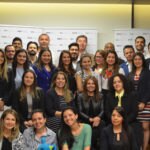 Who's the right fit for BBVA Momentum?
The program wants to support businesses that take an innovative and sustainable approach to providing solutions to social or environmental issues. Applicants should be looking to scale up their businesses.
The requirements are:
1. Successful applicant organizations must be in growth mode, have been operating at least two years, and have a team of at least two or more employees.
2. It must be a financially sustainable business, organization, or social entity; or be working to that end.
3. It must be active in one of the countries the 2019 program is targeting: Colombia, Mexico, Turkey, and the United States (limited to BBVA's U.S. footprint, which includes: Alabama, Arizona, California, Colorado, Texas, Florida, and New Mexico)
4. It must have a proven social impact, but not necessarily in their country of origin.
What does Momentum offer?
It provides support in five key areas:
1. Training: an 18-week blended program that combines online and on-site classes.
2. A mentoring program: a group of BBVA experts help participating entrepreneurs by contributing to the strategic vision of their growth plan and answering questions as they arise.
3. Access to the influential BBVA Momentum ecosystem: consisting of entrepreneurs, customers, and investors
4. Strategic engagement to give visibility to participating companies.
5. Access to funding.
What does the training cover?
The training program consists of a blended format, exclusively created by Corporate Learning Alliance (CLA), an initiative arising from the partnership between the IE business school and the UK's Financial Times. There are approximately 60 hours of coursework, blending online and onsite sessions.
What does the strategic support cover?
This is one of the aspects that participating entrepreneurs value most. Being given the opportunity to count on the support of outstanding professionals at BBVA who will help the participants create their growth plan, giving them the confidence that they are working on a project with great odds of success.
How does the access to funding work?
BBVA does not commit to financing the companies participating in Momentum, rather it acts as a liaison, putting them in touch with potential investors during each local program's closing events. During these closing events, entrepreneurs present their growth plans in front of an audience composed of important players in the sector, among which there will be organizations and professionals who specialize in financing projects.