Garanti accompanies three Turkish social entrepreneurship startups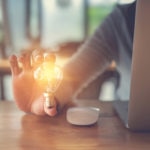 Biryudumkitap, Engelsiz Çeviri and Tolkido earned the right to go to Spain and attend the final global event of the 2018 BBVA Momentum Social Entrepreneurship Support Program. Twelve different startups from Turkey, the U.S., Mexico and Colombia attended the international event, each with a sustainable business model that seeks to make a significant social impact. Responsible for managing the Turkish leg of the program, Garanti has pioneered many projects in this field, as social entrepreneurship is one of the bank's strategic priorities.
The participating social entrepreneurs were a diverse group; some implemented more traditional business models while others leveraged the power of digital transformation. They had the opportunity to visit BBVA Open Space and BBVA City, and were also able to get to know each other and and share experiences. In addition, participants explained their projects to potential investors and worked with experienced mentors. They also received training from experts at BBVA and one of the world's leading business schools, IE Business School.
BBVA Momentum is a five month program that includes training, strategic support, financing, collaboration, networking and visibility. But above all, it's a synonym for growth. The program looks for people who are changing the world through their companies and offering innovating and sustainable solutions to social and environmental problems. Since its 2011 launch, entrepreneurs from six countries have participated: Colombia, Spain, the U.S., Mexico, Peru and Turkey.
After the conclusion of its 2018 program, BBVA Momentum returns this year with an even more ambitious goal: to support 160 more social entrepreneurs, to foster their growth, and increase their positive impact. The registration period for candidates to participate in the 2019 program will conclude on April 22.