BBVA strengthens its fraud prevention capabilities
The growing demand for digital financial services around the world has brought with it an increase in exposure to digital crime and fraud. With 47.8 million digital customers worldwide, BBVA has put its customers' protection and trust as a fundamental pillar of its strategy to combat this situation. In 3 years, the bank has managed to prevent up to 75% of fraud, strengthening customer protection.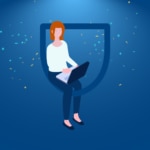 "The increase in transactions, especially with mobile devices, has led to an increase in fraud and scams being committed against customers. This includes phishing and smishing, among other techniques. Against an increasingly digital backdrop, where the number of threats is growing exponentially, having a clearly defined fraud prevention mission and principles is essential," explains Pedro Pastor Rivas, BBVA's Global Head of Fraud Prevention.
In 2019, the bank established a new fraud prevention vision, focused on customer protection as the top priority and holistic management of fraud in all its forms. "Our goal is to be the safest bank for our customers, increase their trust and try to stay one step ahead of fraudsters," says Pastor, who stresses the strengthening of security in business processes or fraud awareness among both employees and customers themselves as part of the principles of this strategy.
An approach leveraged on cutting-edge anti-fraud technology that is constantly being updated. "Since 2019 we have focused on steadily improving our control model, managing to prevent up to 75% of the fraud perpetrated against our customers, faced with a scenario of a growth in attacks of more than 100%," he explains. As a result of this management, the bank has been able to reduce fraud losses by nearly 40% during this period, "a significant figure if we consider the high growth rate of the business figures BBVA enjoys".
Technology to combat fraud
A clear example of how technology has helped in the fight against fraud is the incorporation of a dynamic CVV on Aqua cards, a card with no printed numbers and a CVV that changes for each purchase. "This new system considerably increases our customers' security when shopping, both in person and online," Pastor emphasizes. Other measures that have also helped to strengthen security have been the implementation of biometric solutions by Veridas for digital identity verification, which replaces the use of passwords, and the On/Off feature of the cards.
To this end, BBVA also collaborates with some of the best technology companies to implement fraud prevention solutions. For example, the bank works with FeatureSpace, provider of the latest generation anti-fraud platform (ARIC), to prevent fraud in cards, payments and origination in all the countries where it operates.
"The awareness program we are carrying out to improve our customers' security when making payments is also having an important impact," he says. The bank has reinforced the informative messages in its app and has designed different training actions that allow phishing attempts to be identified, secure payments to be made or to learn how to report possible fraudulent activities.