Almost 1,000 engineers have joined BBVA in the first half of 2022. A figure that the financial institution expects to double by the end of this year. These are technology profiles that are embedded throughout the different countries where the bank has a presence, 400 of them in Spain.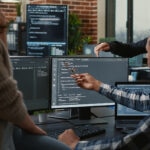 At the end of 2021, BBVA launched a new global Software Development division that brings together more than 16,000 developers across the Group. The objective of this unit is fundamentally to accelerate the transformation of processes and ways of working in software development at BBVA to obtain better solutions, shorten execution times and scale functionalities between different countries.
As part of this structure, the bank has already recruited nearly 1,000 engineers globally. "At the end of June, we had recruited 935 engineers in all the countries where we operate. Our goal is to hire around 2,000 engineers across our footprint by 2022," explains José Luis Elechiguerra, Global Head of Engineering at BBVA. This figure could increase between 2023 and 2024.
Nearly 400 of the 2,000 profiles planned for this year will be hired in Spain. The bank plans to recruit people with a high technical profile, mainly software developers and data specialists who will work on accelerating the digital transformation of the bank's channels through the design, development and deployment of global and reusable components that support the creation of functionalities for Retail and Corporate clients together with Client Solutions, Architecture and Data teams.
"Our forecast is that, in addition to these technical profiles, further recruitments will be made as the needs of the projects, the different business and technology areas are analyzed, so that the total number of new hires this year could reach 400 people in Spain," says Elechiguerra. The bank is looking for a variety of profiles, both juniors and seniors, with backgrounds in engineering and data science.
This figure includes the 100 positions announced for the two new technology centers that the bank has created in Bilbao to house its BBVA IT and BBVA Next Technologies divisions, two technology companies that are responsible for developing, maintaining and evolving BBVA's systems and applications in Spain and advanced architectures in Cloud, Security and Data technologies. More than 60 new professionals have already joined these centers, mainly software developers.
The hiring of technology profiles is also being extended to other countries of the Group. "The recruitment process is progressing at a good pace and by the end of the year we will boast a larger team around the world, which will help us continue to build an innovative, sustainable and customer-focused bank," he adds.