Carlos Torres Vila: "Data belongs to the customers and can only be used with their consent"
In an interview with Spanish daily 'El País' from Silicon Valley, BBVA Chief Executive Officer says that "data belongs to customers and can only be used with their consent." In comments to 'El País' Carlos Torres Vila also advances that BBVA is exploring the use of blockchain in corporate loans. This technology has the potential "to add a lot of transparency, efficiency and immutability, and offers a wide array of other possible uses."
BBVA's CEO was in Silicon Valley, the world's home for innovation and technology, to participate in a new edition of the Propel CEO Summit. The annual meeting gathers CEOs from companies in which BBVA has invested through its VC-vehicle Propel Venture Partners and other startups. In the interview with 'El País', Carlos Torres Vila talks about his views on data, blockchain and other issues.
BBVA explores use of blockchain in loans
Corporate loans is a business, which typically involves a series of processes until a final contract is signed. This is a type of procedure where the blockchain technology can offer access to the information at all times to both parties, the bank and the client. Blockchain "allows to trace the whole negotiation process," said Carlos Torres Vila. "This has the potential to add a lot of transparency, efficiency, immutability and offers a wide array of potential uses." The BBVA CEO also shared two examples where using blockchain was the best option. "We have successfully tested blockchain to reduce the time in international money transfers, and also in import-export transactions."
Asked about the Group's strategy, the BBVA CEO said the bank is "having a series of quarters with an excellent evolution, both financially and in terms of metrics related to digitization and business transformation. We are experiencing a truly exponential growth."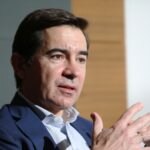 BBVA CEO Carlos Torres Vila, in an interview with El País.
He went on to say, "The number of mobile clients increased 44 percent last year and we are very close to 18 million customers who bank through mobile channels. Digital sales also grew dramatically in 2017, accounting for 28 percent of the total."
Carlos Torres Vila believes the digital trend is unstoppable, saying, "we are increasingly seeing more and more customers banking through digital channels. This year, we are expecting to reach a tipping point, with 50 percent  of our customers using digital channels and next year, half of our customers will be banking through mobile channels."
In the wake of Facebook founder Mark Zuckerberg's Congressional testimony, 'El País' also asked Carlos Torres Vila for his take on customer data. "We believe that data belongs to customers and clients and it can only be used with their consent. Regulation should allow for customers and clients to get (banking) services without losing the privacy of their data."
The best examples of tech giants offering financial services are in Asia"
Finally, the BBVA CEO discussed the big (non-banking) competitors who are currently offering financial services. "The best examples of tech giants offering financial services are in Asia. Amazon, Google and Apple have made a foray into financing, but their scale has nothing to do with Alibaba's or Tencent's," he said. In his opinion, the difference between the Chinese tech giants and the U.S. companies is that the former have managed to converge social networks, ecommerce and financial services.