De la Chica: "Technological convergence is going to change everything"
Venture Solutions Architect in BBVA's New Digital Business division, José Manuel De la Chica, advocates for financial technology companies and financial institutions to collaborate in order to move ahead in the digital transformation.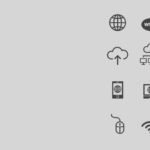 "We are not in an era of change. We're experiencing a change of era. All the technologies that used to appear separately – blockchain, big data, artificial intelligence, mobility, wearables – are starting to come together. This technological convergence is going to change everything." For José Manuel de la Chica, Venture Solutions Architect in BBVA's New Digital Business division, the collaboration will lead to the next giant leap in industrial development.
A technology that is focused on users, as representative of the fintech sector Pablo Blasco stresses. "In the 1980s, customers were at the top of the organization. In 2000, they were at the bottom and now, for fintech firms, customers are at the heart of the organization. They want things quickly and easily," he explained at the  IBM Business Connect event in Madrid.
"I think that fintech firms aren't the ones that need to make a move right now. Banks do," says Blasco, the director of Fintech Spain in reference to the path the financial industry needs to follow to avoid losing customers and meet their needs.
Customers are demanding simplicity and more mobility, according to De la Chica. "The use of cell phones as the main communication channel has been dramatic. It increased by 44% at BBVA over the last year, for example," he noted.
There are no other alternatives to using technology to transform the bank, maintains the BBVA expert. "You either join the game or you'll be left out. We need to give customers more tools and convenience, allowing them to open a checking account from their smartphone, without having to go to the bank. They need to know that the bank branch will always be there, but that there are other options," he explained.
A new reality
What is the philosophy behind this change? "The most important thing is seeing that relationships among people, with the bank, companies, startups, etc. are being transformed. It doesn't matter if you're a bank with hundreds of thousands of people or a startup.
"For example, the bank is exploring the opportunities that big data and artificial intelligence offer in order to personalize customers' products. I think we're doing well."
"The way we do things and how we engage has changed. There is a new reality
José Manuel de la Chica insisted on the importance of collaboration with startups. "This is not a war of one against the other. It's a new ecosystem where different relations will emerge that hadn't in the past and we're going to have to explore them from all angles. We're all in the same boat. There is uncertainty but together we can set the course," he asserted.
He also warned of the importance of regulation: "The regulatory issue can galvanize everything. The U.K. is one of the places on the planet that is giving the most momentum to this ecosystem and collaboration with startups, banks, customers… We have to create a real ecosystem. We need to share ideas and take advantage of APIs to put Spain on the map."