BBVA in Uruguay has launched its banking application for Apple Watch, another innovation that makes life easier for customers.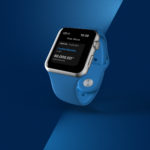 Glomo continues to revolutionize financial services. Thanks to this global mobile banking platform, BBVA's app is now available for Apple Watch customers in Uruguay.
The new app reflects BBVA's desire to make life easier for its customers, allowing them to choose how to interact with the bank according to their personal needs and circumstances.
The app is global, which means it can be reused in any country across the Group's footprint, and reduces time-to-market, making the process of putting convenient solutions in the hands of our customers more efficient.
With this app on their smartwatch, customers will be able to check the balance of their account or cards or use the currency converter. They can also open the app with voice commands; just say "Oye Siri, abre BBVA" (Hey, Siri, open BBVA), and the virtual assistant will display all the products available.
The app is already available for Apple Watch in Uruguay and will soon be launched in Peru as well.