Maite Pastor –creative director– and Becky Edid –commercial director– are the founders of the Mexican startup Pantone321.com, an on-demand graphic design platform based on bids –SMEs or entrepreneurs launch a bid with their design needs, and the creatives submit their ideas.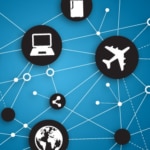 "We're starting to see many opportunities here in Mexico. 95% of the companies in our country are SMEs, which is an indication of the importance of these new businesses. So to meet their needs, we're seeing the emergence of enterprise capital funds that drive initiatives where money is no object. Competitions by Possible, Wayra or the Inadem are a way for entrepreneurs to receive advice and capital", say Maite Pastor and Becky Edid, the entrepreneurs behind Pantone321.com, the graphic design startup.
Universities are an important part of this ecosystem, as they constantly support students and recent graduates in creating new initiatives, and they nurture the projects that are already under way. Many industries also have programs with initiatives to support a more user-friendly entrepreneurial ecosystem.
The businesswomen explain that the main challenges for entrepreneurs in Mexico are motivation, patience and perseverance.
"It's difficult to take the decision to leave your job and commit to something new because of the Mexican work culture, which is still very traditional: you stay in a job for years, gradually moving up the organization, even though it's not the job of your dreams".
"Another challenge is finding investors who believe in your project and then surrounding yourself with people who understand the issue and can help you grow, like mentors in already successful companies with knowledge and more experience of the ecosystem where you're planning to work as an entrepreneur", they add.
Demand for designers
One advantage of the Mexican entrepreneurial and innovative ecosystem is that if an idea is quite new, there's not so much competition and the field is wide open, as there's considerable demand for designers and people who need design.
"As we said before, most of the businesses are SMEs, and this means there's a substantial supply and demand for accessible services. Our case, a graphic design platform, perfectly fits this ecosystem, as most of the businesses just starting out don't have enough capital to hire an agency to develop their image".
However, one obstacle that emerged in Mexico is that people are reluctant to pay via the Internet. Although more people are now using the various platforms, there will always be a fear of fraud, or of not knowing whether you're going to receive what you expected. "It's up to us to generate that trust. Another obstacle is the time start-ups take  to become profitable, as these are lengthy processes, and making a name for yourself among so many projects can be a challenge".
From their point of view, Pastor and Edid agree that e-commerce and Internet business are short-term trends. "The world is ever more globalized, and Mexico is heading in that direction. For some years now Internet has been a fundamental part of any business, and that's why there's been a rise in professions related with this area such as community manager, so the world of Internet and social networks will continue to grow and become an essential part of any company, while other types of services and jobs will become obsolete", they claim.
However the businesswomen are of the opinion that entrepreneurs are concentrating on technology, as the world is modernizing and there's an ever greater demand for technological products and services. "Like apps that make our everyday lives easier, everything from doing your grocery shopping from home through to a more complex system like Apple's Siri".
They believe the entrepreneurial ecosystem is booming and has a promising future. "There are a lot of programs and investors. As we said before, there are enterprise capital funds and government programs such as the Inadem, Endeavor and Seaya Ventures that support this type of initiatives, which all make Mexico a very friendly ecosystem for entrepreneurs", they conclude.