Eco-friendly start-ups position themselves in the Spanish market
Due to the ever-growing demand for green products and services, eco-friendly companies are starting to pursue business opportunities in the Spanish economic landscape. These companies are committed to the generation of sustainable wealth and respect for the environment.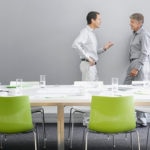 The Spanish population is concerned about preserving the environment and nature. According to the latest Eurobarometer on climate change prepared by TNS Demoscopia, 79% of Spaniards consider the environment to be a very serious matter.
Since 2014, the number of consumers of organic products has increased by 33%, according to the Ministry of Agriculture and Fisheries, Food and Environment. Likewise, actions such as recycling and the use of alternative transport methods to reduce CO2 emissions are in full swing. This trend has resulted in a 26.3% increase in environmental protection spending between 2002 and 2011, as well as a 361.3% increase in patents for inventions related to renewable energies between 2004 and 2015, according to the Spanish Patent Office.
The differential value that green companies offer lies in the generation of wealth and employment while protecting biodiversity and natural resources. They help raise awareness about the short and long-term effects of unsustainable consumption on the planet.
According to Sonia Castañeda, director of Fundación Biodiversidad, "looking at the Spanish entrepreneurial system as a whole, the green entrepreneurial ecosystem shows a higher rate of new entrepreneurs over the total, as well as a better business regeneration ratio." The popularity and success of green companies demonstrate their potential as real business opportunities.
More efficient and responsible
"In the entrepreneurial business sector, small companies predominate, with high degrees of diversification and innovation," according to Castañeda. Green "startups" are characterized by more efficient, responsible and less costly production processes. These companies are not limited to the food sector, although it is the most popular. They can also be found in the construction industry, in ecotourism, in renewable energies, the technology sector and many others.
One of these companies is Light, which has produced an application to monitor users' sustainable habits, rewarding them for actions such as using public transport or a bicycle or recycling. Users are rewarded with 'Lights', which are equivalent to the savings in carbon emissions resulting from an action. 'Lights' are a virtual currency which can be redeemed for products and services through discounts and direct prizes. The 'app' verifies these actions by validating the information obtained from the user's smartphone against open and third-party action-related databases.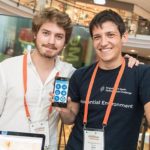 Light co-founders Carlos Rosety (left) and Santiago Jiménez (right) at the JA Europe Enterprise Challenge 17 event.
"For users, the process is pretty straightforward: all they have to do is indicate the action they are about to carry out by pressing a button to start and stop when they are done. To make it more interactive, users can compete with each other through different challenges," says Light co-founder Santiago Jiménez.
Eco-friendly gamification
The idea of the 'app' is to get users to lead a more eco-friendly and environmentally responsible lifestyle in a way that's engaging and fun. To this end, its inventors  have incorporated gamification elements, an addition that implied some complexities: "Gamifying is not simply handing out badges to anyone who does something. It goes much further. You need to get the user to really feel like a player and enjoy the gameplay," says Jimenez.
Light's customers are companies that want to offer their products through the 'Light Market'. For brands, this market represents a new sales channel for companies, a more appealing and relatable one that can also help them boost their image and raise awareness about their corporate social responsibility policies. "We currently have agreements with different brands and offer rewards in technological, fashion and leisure products. But the idea is to increase this spectrum and above all, make sure that users receive challenges and rewards, according to their profile, to motivate them more," says Jimenez.
To get into this kind of endeavor, one must have vocation, drive, be ready to learn from the setbacks and keep at it, no matter what"
But the path of entrepreneurship is never an easy one. "After many hours and many months of hard work, now we are starting to see some results. But we still have a long way to go. To get into this kind of endeavor, one must have vocation, drive, be ready to learn from the setbacks and keep at it no matter what," he says.
This vocation is shared by Arkyne Technologies and Bioo CEO Pablo Vidarte, one of the founding partners of Bioo, a technology capable of converting photosynthesis of plants into a continuous source of electricity. Bioo emerged as a different way to obtain power that is not harmful for the environment and that could be controlled.
"The idea was to turn the plant leaves into solar panels. We use something that society has been able to care for thousands of years: agriculture. In addition, the possibility of generating electricity both during the day and at night is a key factor," says Vidarte.
Educational kit
Despite having to overcome some hurdles during its initial stages, due to both the youth of its founders and the innovative concept that they are proposing, today the company enjoys a solid position - so much so, they have expanded their product offering. One of them is Bioo Ed, a kit with a basic version of the technology used by the company, designed to raise awareness.
"It's a product created by the market itself. Many colleges and laboratories asked us for materials to recreate similar experiments with children, "says the CEO. We're planning to launch the product in time for Christmas.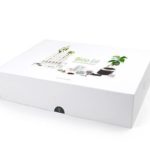 Bioo Ed, Bioo's educational and awareness-raising product.
Success has accompanied this company since it took its first steps. It won the South Summit16 event award as the best 'startup' in the Industry and Energy category, as well as the most innovative project. The winners of this competition receive a number of benefits, such as access to finance, greater visibility and support for their internationalization. Following the South Summit, they represented Spain at Expo 2017, an international exhibition on energy innovation that took place in Astana, Kazakhstan.
For the time being, the Bioo team will focus on marketing panels for the farming industry. "The future is in agriculture because products like Bioo save a lot of water on a large scale," says Vidarte. On the other hand, in the long term they are eager to embark in new technological projects that contribute to the fight for the protection of the environment.
Consume less
Ecovatios is another success story. Ecovatios is a power company that supplies both its residential and business customers with renewable energy at competitive prices. Its aim is to help its customers to consume less, to save and to curb the environmental impact of their energy consumption.
After detecting the need for green energy in the market and the booming demand for eco-labeled products, the company established its position in the market with some power-saving initiatives, including self-consumption with solar energy and the Green Rate.
"At first, people couldn't believe that they would be able to save 40 to 70% of their electricity bill by installing solar panels on the roof of their buildings or home. We can make a project proposal and a feasibility study free of charge to any interested person or entity in less than 24 hours, "says Ecovatios founder Carlos García.
The company, which is planning to launch its international operations by 2020, considers reaching out to its potential clients a top priority. "The fundamental thing is to identify the services or products that solve a need that customers have and treat them better than the incumbent companies," García says.