India takes off timidly with innovative projects.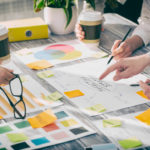 The world's second most populous country (1.3 billion inhabitants) has an internet penetration of 28.3%, although in the past three years it has grown by 17%, according to InternetWorldStats.
The Indian landscape is characterized by following the traditional model. Many companies are set up but few are innovative and when a new project starts, it opts for traditional business. Although it has its own Silicon Valley (1000 startups in the city of Bangalore), at the moment the market has not taken off like in China or the United States. The startups that spring up have little competition but face burdensome administrative and bureaucratic procedures.
Ranked 158th out of 189 countries in entrepreneurship (DoingBusiness), despite its great potential, India still has a long way to go in the world of innovation.
The website 1001startups highlights the following projects:
- Zivame: Created in 2011 in Bangalore, this firm has raised $37.7 million.  It sells lingerie and has a true phenomenon in India by breaking all the taboos. They plan to open their first physical store in Bangalore.
- Cucumbertown: The self-proclaimed "youtubers of food", a place to post recipes and learn everything that surrounds the world of food.
- Woofyz: there are more than 260,000 abandoned dogs in New Delhi. This website puts vets, professionals and pet owners in contact with each other.