There are currently 197 unicorn companies in the world, with 24 new additions so far this year. Fintech, smart building, cybersecurity, messaging… the new arrivals come from a wide range of sectors. Among the veterans, Uber is leading the way with a valuation of $68 billion.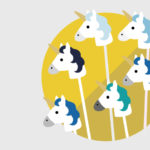 2017 has been a good year for the entrepreneur ecosystem. Unicorn companies, or tech startups worth at least one billion dollars, are on the rise and the names have joined the "club". According to Crunchbase, at least 24 companies became unicorns in the first five months of the year. If this pace continues, 2017 figures could be similar to those of 2016, when 50 companies joined the gang.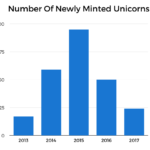 Graph on the number of new unicorn companies per year. - Crunchbase
Although it's true that 2015 set a new record with 95 new unicorns, this year the 22 new arrivals belong to a wide range of sectors, including fintech, smart building, cybersecurity and software, and messaging platforms.  Some recently minted ones are: Robinhood, a free app that offers free stock trading; the health insurance company Clover that uses data to provide patients personalized service; Zoom, an online videoconference and meeting service; Avaloq, a Swiss company that ensure the privacy of banking systems; the company CrowdStrike, which develops cloud-delivered services endpoint protection and intelligence and response to threats; and Quora, a social network of questions and answers to share knowledge.
Thanks to its database that analyzes the results of venture capital companies and startups, CB Insights recently published a map with the current 197 unicorns based on their area of business. This map classifies the companies into 13 different sectors: ecommerce/marketplace, Internet software and services, fintech, social, cybersecurity, on-demand, big data, healthcare, media, hardware, mobile software and services, real estate and other (edtech, aerospace, augmented reality and virtual reality). The sectors with the most valuable unicorns in the world are ecommerce (17%), internet software and services (14%) and fintech (11%).
In the fintech sector, the following stand out: the online lending platform Avant; Paytm, an Indian payment and ecommerce provider; the Stripe system that allows individuals and companies to accept payments through websites and mobile apps and GreenSky, a platform that allows uses to get a credit decision at any time or place, using any telephone, website or app, in a matter of seconds.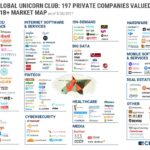 List of unicorn companies in 2017 by sector. - CB Insights
Some social companies have also made a place for themselves on the unicorn list. Companies like Nextdoor, a tool that allows people living in the same neighborhood to be connected and share information with each other; Sprinklr, a social media management platform that provides digital information for businesses  and Pinterest, one of the fastest growing social networks in recent years that allow users to organize, file and share visual content, grouping them by topic.
But the list includes less traditional companies, as well. Several of the world's cybersecurity, big data and healthcare companies also made the list. The Lookout app lets users get information in real-time on any web explorer about the devices they register, while Ilumio prevents threats in any data center and cloud. In the big data arena, Palantir helps people work with data without having to have any technical knowledge, and Uptake is a startup that helps customers compile large volumes of data, either from IT systems, sensors or computers.
Several healthcare companies are also on CB Insights' unicorn map. In fact, there are 15 platforms that provide medical services and technology, including Zocdoc, which helps users find a doctor and Flatiron, which uses data in the fight against cancer.
Who is in the Top 5?
According to an article published in Forbes, the California- based company Uber, which provides customers a network of private transportation on its mobile app, tops the list. Worth $68 billion, it is currently the most valuable private company in the world. The Chinese version of Uber, Didi Chuxing, is second with a value of $55 billion. They are followed by the smartphone manufacturer considered the "Apple of China", Xiaomi, which is worth $46 billion. Airbnb and Palantir round out the top 5, worth $29.9 billion and $20 billion, respectively.
These five companies are followed by other "decacorns", or companies worth more than $10 billion. They include Lu.com ($18.5 billion), China Internet Plus Holdings ($18 billion), WeWork ($16.9 billion), SpaceX ($12 billion), Pinterest ($11 billion), Toutiao ($11 billion), Flipkart ($10 billion), DropBox ($10 billion), Infor ($10 billion) and DJI Innovations ($10 billion).
In terms of countries, more than half of the unicorns (54%) are based in the U.S., followed by China (23%), India (4%), the U.K. (4%), Germany (2%) and South Korea (2%). No other country has three or more private companies worth at least one billion dollars, according to Forbes.
Fintech is one of the sectors with the most valuable unicorn companies"