This is how fintech can help implement a green economy
The world is moving towards sustainable economic models which by 2030 could create economic opportunities worth $12 trillion a year. Through technologies such as advanced data analytics, blockchain or artificial intelligence, fintech can help companies to evaluate and reduce their environmental impact, and investors to channel their operations towards more sustainable assets.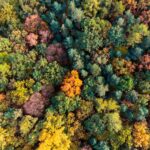 Meeting ESG criteria (environmental, social and governance) is an increasingly important goal for companies, a goal that investors and consumers support. According to Refinitiv data, investor interest in sustainable assets increased 34 percent in 2020, 61 percent when it came to millennial investors. The same percentage applies to consumers of this generation who look for products manufactured under these criteria.
Interest is also shifting to capital markets as reflected by organizations such as the International Monetary Fund and Nasdaq. By 2030, sustainable business models could create economic opportunities worth $12 trillion a year and nearly 400 million jobs, mostly in developing countries.
But ensuring that objectives aligned with sustainability are being achieved requires evaluating their fulfillment. And this evaluation will be more accurate and effective if you have a robust technological infrastructure along with uniform, standardized and consistent indicators and measurement methods. This is a highly complex issue, which fintech could help address.
As a result of this, an unusual technological explosion is taking place within the sector and sustainable big data is becoming a mini-industry in itself, with almost 200 data providers and countless fintech startups operating globally, according to KPMG's 'Pulse of Fintech H1'21' report.
AI and data serving a green economy
Artificial intelligence (AI), advanced data analytics, tokens, and distributed ledger technologies (DLT) are some of the most promising fintech solutions for a sustainable finance industry. Among its wide array of applications, BNP Paribas highlights the following in its report 'Fintechs and the ESG Data Challenge':
Analyze the exposure of equity and fixed income portfolios to different risk scenarios related to climate transition; Investors would thus have benchmarks against which to compare their own portfolios.
Assess real time public opinions regarding sustainability through AI analysis of millions of unstructured data. Using these types of tools, BBVA Research's report 'Understanding the sustainability framework using Big Data' identifies the societal debates and concerns related to this issue in order to better understand what, how, when and where people talk about sustainability, capturing the issues of greatest concern, the actors leading the debate and how they relate to each other.
Assess whether the activity of a company has a positive or negative impact on each of the Sustainable Development Goals (SDGs), also with AI.
Channel small investors' funds towards sustainable investments with 'robo-advisors'.
Develop blockchain platforms that help monitor compliance with the SDGs. For example G17Eco, a project of the fintech World Wide Generation with the support of the Government of the United Kingdom and the City of London.
Use big data to measure the environmental impact of companies' assets (for example, their carbon emissions or the traceability of their supply chain).
Precisely in line with this last point is BBVA's pioneering solution to help companies calculate their carbon footprint, thanks to its digital capabilities and data analytics. These calculations are very useful so that companies can register in the official carbon footprint registry and obtain a seal that certifies their commitment to reducing their CO2 emissions
Private customers in Spain can also calculate their carbon footprint with BBVA, based on their gas and electricity bills and fuel costs. Thanks to this, they will become aware of the impact of their actions on the environment (according to calculations, on average, Spaniards emit a half a ton of carbon dioxide per month) and contribute to the transition towards a more sustainable world.
International alliances, innovation and standardization
By leveraging technology, large international organizations, public and private, are collaborating with this transition towards a more sustainable economy.
In line with the more ambitious objectives of the Paris Agreement, the banking sector is promoting a net-zero emissions alliance (Net-Zero Banking Alliance, or NZBA), of which BBVA is a founding member. Through this agreement, member banks commit to making all their credit and investment portfolios neutral in net greenhouse gas emissions by 2050. One of the alliance's requirements is that the direct impact of its members' activities be neutral, a goal that BBVA already achieved in 2020.
As part of its Green Fintech Challenge 2021 and in collaboration with the City of London Corporation, the UK Financial Conduct Authority (FCA) is running a cohort in its digital sandbox to accelerate innovation and develop fintech projects that:
Help consumers to be informed about the sustainability of the products they buy; and find options that are aligned with their needs and preferences.
Automate obtaining reliable ESG data from listed issuers and validate the green bonds they issue.
Encourage transparency in reporting on sustainable issues.
To standardize the presentation of these non-financial reports in terms of sustainability, at the end of 2020 the Davis World Economic Forum published the 'Stakeholder Capitalism Metrics.' These metrics include criteria for ethical behavior, diversity and inclusion, water consumption, job security, innovation, wage equity, anti-corruption and greenhouse gas emissions, among others. BBVA has formed part of this international commitment since early 2021, and the Davos World Economic Forum website includes a link to the Group's report that already includes these metrics.
As the market continues evolving, influenced by the environmental and social challenges that most urgently need solutions, technology holds the key in laying the foundations for a greener and more inclusive future.