Three Mexican social enterprises were selected to participate in the global event for the 2019 edition of BBVA Momentum
The 2019 edition of BBVA Momentum in Mexico has accelerated the growth of 100 social enterprises. The three companies that stood out for their potential growth and innovation will go to Madrid on March 3rd to participate in the global event ending this 2019 edition.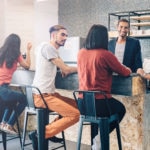 Following their experience at Pitch Day, the final event of the 2019 BBVA Momentum in Mexico, three finalist social enterprises will travel to Madrid, ready to demonstrate the fruits of their intense work carried out throughout the months of the program. Below are those that were selected and their cover letters.
Sal de Aquí
This social enterprise based in Mexico City offers salt mixed with Mexican ingredients, inspired by pre-Hispanic flavors. "Our salt, which comes from the sea, is harvested by hand at Cuyutlán Lagoon in Colima. This harvesting process maintains its natural nutrients intact," explain its promoters.
Its formulas mix 'fleur de sel' with ingredients that give it character: grasshoppers, Maguey worms, chillies, citrus fruits, etc. It results in a series of products that surprise the most traditional palates, with a highly nutritional value that even makes them suitable for people with diabetes or hypertension.
The members of the Association of Single Mothers Working in Tláhuac are in charge of collecting the salt, grinding it together with the other ingredients using artisanal techniques, and packaging it. This group is comprised of a group of women who are raising their children alone, and vulnerable people or those with some kind of disability. They are the soul of this company and their work is changing their future and  that of their families.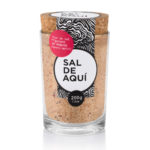 'Sal de Aquí' mixes the salt flower with ingredients that give it character, giving work to people in vulnerable situations.
Biofase
Is it possible to make biodegradable plastic from avocado seeds? Biofase is demonstrating that it is. "It's a patented technique that is unique in the world," says its director general,  Sergio Sistos. Biofase. The company manufactures disposable products -- silverware and straws -- from this raw material,  and was a pioneer in producing biopolymers in Mexico. Prior to their arrival, they could only be imported. Biofase currently leads the production of this material in Latin America, and exports its products to more than 19 countries. 
Its plans to grow entail increasing production, internationalization -- especially in the U.S. and Europe -- and job creation. "We want to reach more than 200 direct jobs and process over 60 tons of avocado seeds, turning them into the raw material that is transformed into finished products," explains Sistos.  Some of its plans include complementing its positive impact on the environment by launching a foundation dedicated to the protection of marine fauna.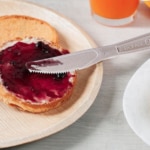 Biofase manufactures disposable products from avocado seed.
Prison Art 
Prison Art is a company that offers a more hopeful future to people living in prison. "It is born with powerful DNA, a unique story and a social cause that makes the brand extremely attractive for the luxury market," says its founder Jorge Cueto. In his reinsertion workshops, the company's  team trains the beneficiaries in design art inspired by tattoo aesthetics. Actual works of art emerge from their hands, which are later printed on the brand's leather bags using a process similar to tattoos.
This company instructs its users while they serving their prison sentences. They are later offered a job in the different departments of Prison Art, completing their process of reintegration into society. Its promoters must be proud of everything they are achieving: "We have managed to make Prison Art an innovative brand, not only for its production processes, but also in the social sense."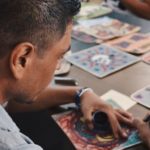 Prison Art It gives training and employment to incarcerated people to complete their reintegration process in the future.
If you would like to learn more about these companies and the other 2019 BBVA Momentum finalist ventures, don't miss the final global event of this edition, which will take place on March 3rd in Madrid. You can register on this link.