Transformation with disruption: BBVA's formula for digital success
The BBVA Group recently held a new edition of Live@BBVA, an in-company event that focused on new business models and support for the innovation ecosystem.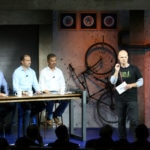 The digital race is won by transformation, but it should always be disruptive.  This is the formula BBVA has used to become a fully digital institution. And it was the message that Derek White, Global Head of Customer and Client Solutions, put forth at a recent session of Live@BBVA, in which Group Executive Chairman Francisco González , CEO Carlos Torres Vila also took part.
For employees, the event offered a unique opportunity to learn first-hand about some of BBVA's initiatives in the innovation ecosystem and its partnership projects with fintech startups around the world. Derek White, who hosted the event, also reminded employees about BBVA's pioneering role in disruption, as it looks beyond traditional business lines to explore new ones that could potentially compete with the bank itself.
White noted that fintech startups offer agility and new skills that can be useful for traditional companies. "At BBVA, we really believe that we need to deepen the transformation of our core businesses and at the same time, to be disruptive by introducing innovative models and connect with the ecosystem," he said.
This search for new and better ways to attend to customers has led BBVA to embrace the concept of the "self-driving bank." Like the driverless cars that are being tested today, in the near future bank customers will be able to put their finances on automatic pilot. BBVA can help its customers to make the best financial decisions for themselves, their families and their businesses, while allowing them to take control of their finances whenever they want
The key: know your customer
How does a bank get to this point? By getting to know its customers better and better, in order to offer them the best financial solutions for each situation. A good example of this new paradigm is how to deal with millennials.  Javier Rodríguez Soler, Global Head of Strategy and M&A, explained that the millennials are a generation that doesn't like to manage its finances.  "BBVA can help them do it, especially when it comes to tedious and intrusive tasks that at times interfere with customers' lives when they could be doing other things," he said.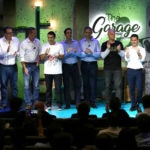 Members of Live@BBVA event
During the Live@BBVA event, employees heard several examples of transformation and disruption, provided by representatives of innovative companies that collaborate with BBVA. They show how BBVA has leveraged innovative third party solutions to develop products and services that improve its value proposal for customers.
BBVA Valora, the app that offers advice to potential homebuyers, is a good example of this strategy. In this particular case, the bank built upon the capabilities of Madiva, a startup it acquired in 2014.
Another case in point is Openpay, the Mexican startup that BBVA acquired in 2016. As CEO Roberto Bargagli explained, Openpay offers a broad range of payment solutions that seamlessly complement the services the Group offers in Mexico. The result: better services for BBVA Bancomer customers.
In terms of technology, BBVA has also sought the best partners in particularly important areas to digital banking, such as biometrics. This is the case of Veridas, a partnership between BBVA and Das-Nano, led by Eduardo Azanza. Its mission: develop (with 100% proprietary technology) digital authentication solutions. Its products and services are already used in BBVA's mobile customer registration process in Spain.
In Turkey, the bank has pioneered the integration of technologies that widen the scope of digital banking. Garanti Bank's Bora Uludüz explained that through a partnership with Nuance, a U.S. firm specializing in Artificial Intelligence through language, it has created MIA, a smart automated assistant that allows customers to operate with the bank through voice orders.
Thinking outside the box
Building on its startup collaboration strategy, BBVA has gone one step further, to develop its own startups to explore untapped business segments. Teppo Paavola, head of New Digital Businesses, announced that BBVA is finalizing new startup projects in Madrid and San Francisco.
The BBVA Group has already launched Trust·u, which specializes in financing for Small and Medium-Sized Enterprises, with a risk assessment model that includes a score based on machine learning. Now, it is preparing to roll out Azlo, a new venture that offers access to basic financial services to entrepreneurs, self-employed workers and creative professionals, to help them grow their businesses without fees or borders.