Waynabox is a startup founded in 2015 by 3 engineer friends. Maria Carbonell, Head of Marketing and Communication at the company, explains: "it all began when they went interrailing together after graduating from university, and their eagerness to travel and see the world gave them the idea to set up their own business once they returned to Spain. The initial idea was to create something similar to interrail, but using planes instead of trains. But Waynabox is bigger than that now."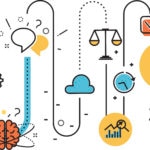 The startup organizes travel arrangements, including round-trip flights with two night's hotel accommodation, at a set price of 150 euros per passenger (minimum 2 people). The catch is that users have no idea of their destination until 48 hours prior to departure.
Maria Carbonell explains how the platform works: "Waynabox works with 30 city destinations, and depending on the date that you choose 12 different options will be displayed. You then have the option to veto up to three; one free of charge and the other two for five euros each. The same is true for the choice of flight time; if you want to select a specific time you have to pay five euros extra for the outward journey and another five for the return. And you are told your destination two days prior to travelling."
That's what makes this different. Normally when you travel the first thing you think about is the destination and then you organize the trip itself. But with Waynabox it's completely different.
According to the Head of Communication and Marketing, this approach has seen the startup "provide service to more than 8,200 users in the first year", while turnover at the firm "reached 1.3 million euros". She added that "the idea was developed thanks to the support of the Lanzadera project", a fully private capital project run by Juan Roig to help leading entrepreneurs set up efficient companies.
"We are growing non-stop", says Maria Carbonell. "There are now 21 of us working here. We recently added Malaga Airport as a starting point, as well as Barcelona and Madrid, which clearly indicates that the low-cost and adventurous approach to flying and seeing the world really appeals to people."
She added, "the company's target market are young people aged 25 to 35 years of age, but it is not unusual to see entire families travel with grandparents and children too."
The destinations are tourist cities, many of them capital cities such as Paris, Bucharest, Brussels and London, but there are also some Spanish islands and even North African destinations in Casablanca and Tangiers.
"Spanish and African destinations get vetoed by users most frequently", says Maria, adding "we have many repeat users, so the company invites them to post photos with destination-specific landmarks and in exchange we offer a ten-euro discount on their next trip."
Waynabox is an innovative option for adventurous travelers who are more interested in enjoying the travel experience than in discovering a specific city.