Wearables manufacturers are changing their focus from fitness and health, to improving user productivity and connectivity. That´s the great challenge facing a business whose size is expected to double between 2017 and 2021.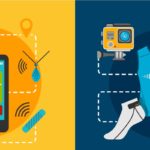 Have you noticed those colorful plastic wristbands that more and more people are wearing? The devices, with names like Xiaomi Mi Band and Fitbit Charge, measure and compile basic data about users, such the number of steps they take, heart rate and hours of sleep. They are the evidence that wearables - technology incorporated into clothing or accessories of daily use—are becoming items of mass consumption.
However, that's just the beginning, according to the companies that are investing in the wearables business. Intelligent wristbands, with their different levels of service, are the simplest option within a wide array of wearable devices. The great hope of these companies are smartwatches, but they are also working on connected clothes and intelligent headphones.
For the wearables manufacturers, the challenge is to maintain their association with health and fitness, even as they expand to include devices that improve productivity and connectivity.
What's the sales forecast for this market? Two recent reports seek to answer that question; one, by the consultant International Data Corporation (IDC), offers a global perspective, and the other is from eMarketer, focused on the US.
According to the IDC report, the size of the global wearables market will practically double between 2017 and 2021, rising from 113.3 million units sold to 222.3 million, with an average annual growth rate of 18.4%. IDC predicts that intelligent wristbands, which now represent 39.8% of the total market, will lose their appeal over time. Their annual growth will decline to an average of 1% between 2017-2021, with a market share of 21.5% among wearables products.
On the other hand, smartwatches - which have a much wider array of functions - will grow during the same period, at an average rate of 27% for the models that offer basic functionalities and 22% for the most technologically advanced ones.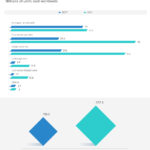 The wearables' market growth.
As for the US market, according to the projections made by eMarketer, the expectations are for slow, but not negligible growth. The consultancy estimates that the number of adult users of wearables in the USA will grow by 11.9%, in 2018, reaching a market penetration of 19.6%, which will rise to 22.6% in 2021.
"We haven't seen any wearable turned into the next must-have, so our expectations are conservative," says Cindy Liu, analyst at eMarketer. In the case of smartwatches, she says, "Consumers still have to find a reason to justify their price, which in some cases is as high as a smartphone." For example, the latest version of the Apple Watch, the icon in its category, is sold in Spain for over 350 euros.
At IDC, they admit that the numbers are very clear, but the circumstances that can make them a reality are not. According to the consultant's report, the growth of smartwatches depends in part on the popular brands taking strong positions, which would lead to an increase in prices.
Jitesh Ubrani, analyst at IDC, explained it as follows: "The fight to go beyond health and fitness is continuous, and convincing consumers to spend more for functions whose use is not immediate or obvious will be a challenge. That's where the popular brands have the chance to shine, given that their consumer base does not tend to prioritize what the apparatus provides."
In the IDC study, the category growing most is earwear, or connected headphones. Their new functionalities (such as the capacity to increase the volume, monitor sporting performance, or bring personal assistants like Siri directly into our ears), combined with the progressive disappearance of the 3.5 mm port of headphones in cell phones will cause this category to go from 1.7 million units in 2017 to 10.6 in 2021, with an average annual growth rate of 58%.