The digital app market is evolving. In Asia and Latin America, the so-called super apps – standalone apps capable of offering everything that users need - are already a reality.  Financial services are one of the cornerstones on which these apps are building their ecosystems, which feature everything from social networking, to food delivery or transport booking features.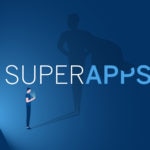 In Europe, to order food, hail a ride, order food, renew their car insurance policy or send money to a friend via mobile, individuals need to download and install different apps on their smartphones. In Asia or Latin America people have other options. They can enjoy all these services, and more, from a one-in-all macro app, or super app. Apps such as WeChat in China or Rappi in Colombia and other Latin American countries have become an essential part of the everyday lives of citizens . Thanks to them they can access all these services from the same app.
"They're a new model in the field of apps and digital business," explains Nacho de Pinedo, CEO of ISDI, a business school specializing in digital business.  According to this expert, super apps are the natural evolution for digital titans such as Amazon and Amazon, as well as a convenient solution for users. "Customers get the convenience of accessing a plethora of services through a one-in-all app offering a consistent user experience. There's no need to download other apps, get acquainted with their use dynamics, entering personal or payment information several times, and having interaction histories in different sites."
These super apps began as specific service apps (WeChat's goal was to become Asia's WhatsApp, while Rappi launched as a food delivery service), that blossomed into full-blown ecosystems as they started embedding many other services. Today, using an app such as Rappi, Colombian users can order food, hail a cab, book an e-scooter, pay their mandatory car insurance policies (SOAT), book a 'rappifavor' (such as having someone to drop by their home to walk their dog) and make money transfers using Rappipay.  Payments are, without a doubt, one of the most useful tools in regions with low levels of financial inclusion. "These apps allow making payments in markets where it is crucial to build an e-commerce ecosystem that allows users to delay or fraction their payments and avoid credit cards," explains De Pinedo.
According to data from organization of mobile operators GSMA, by 2025 there will be 422 million mobile internet users in Latin America, with a penetration of 64 percent of the population. In China, Asia and the world's largest mobile market with 1,200 million customers, mobile network use will grow to encompass 88 percent of the population.
"Customers save themselves from having to download other applications, familiarizing themselves with how they work, repeatedly providing personal or payment information, and having different user histories in different sites."
There has not yet been a single player in Europe or the United States that has attempted to unite all these services in one place. The first one-stop-shop example is coming out of Russia: Tinkoff, a Russian digital bank has launched the beta of its "superapp." In addition to their financial services, they hope to also offer entertainment, transportation, and even well-being and beauty services.
'Super apps', looking at the financial market
These kinds of apps harbor the potential to disrupt a number of sectors, including the financial services industry. WeChat allows its users to access a series of 'social ecommerce' features. Apart from sending money to other mobile users (much like Bizum does in Spain), WeChat allows its users to buy homes or insurance policies.
As for the banking sector, according to a report by consulting firm KPMG, while banks deliver regulated services, super apps retain the experience and relationship with customers.
The vast wealth of data they amass allows them to anticipate customer needs and get to know them better. "They are using their data to better target financial products to customers, at the exact time they need them," says KPMG.
The consulting firm is advising banks to take risks in markets where market-leading super apps are yet to emerge, partnering with local players, and leveraging open banking architecture and application program interfaces (APIs) to create a super app of financial services.
BBVA has already taken some significant steps in this direction, including an agreement with Uber Mexico to provide financial services to all driver-partners from the car-hailing app itself, or with the launch of its open banking platforms in the United States and Spain. BBVA has also been adding a number of features to its mobile banking features, to expand its utility beyond the mere provision of financial services, such as Valora, which offers guidance regarding home rental and purchase prices, or Bconomy, its expense management tool.
In fact, the versatility of the features geared towards improving the financial standing of its customers was been one of the key factors that led Forrester Research to name BBVA's banking app as the world's best for third consecutive time this year.