Just like in past editions, the 47th World Economic Forum annual meeting in Davos drew worldwide attention. Hard brexit, Donald Trump's presidential inauguration, employment, the future of Europe, the transformation of the banking industry and the challenges for 2017 after a somewhat turbulent year, were the themes that dominated the debate.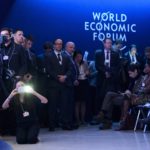 Yet another year, world leaders, top business people, economists, artists and philanthropists gathered at the WEF meeting to discuss and try to find solutions to the world's most pressing challenges. One of the key takeways from this year's edition, as noted by the Financial Times, was that "globalization was taken for granted and must now be saved."
In her first appearance, UK Prime Minister Theresa May delivered one of the most eagerly awaited speeches, and shed some light on her government's plans to effect the UK's departure from the European Union (brexit). May launched a message in favor of "globalization, free market and international cooperation."
Chinese President Xi Jinping delivered a speech that was reassuring in tone and that emphasized his country's commitment to support global climate change policies, calling for increased international cooperation to face global challenges.  Also, but without expressly mentioning him, he made reference to Donald Trump's new commercial policy:   "No one will emerge as a winner in a trade war", he said.
BBVA's participation in Davos
Francisco González, Group Executive Chairman of BBVA, took part in another edition of the WEF annual meeting, just as he's been doing for more than ten years. Speaking at a panel discussion organized by Business Insider focusing on the global fintech revolution, he predicted that the global financial system will go through a profound restructuring process that will result in a dramatic reduction in the number of institutions: only a few dozens will survive, and "BBVA will be one of them," together with digital giants and startups.
Precisely, two key players in the new digital financial ecosystem were also invited to take part in the panel: Eric Jing, CEO of Ant Financial, the digital payments firm of Alibaba, one of the largest e-commerce companies in the world; and Dan Schulman, PayPal CEO, a leading online-payments platform. Dan Schulman pointed at digitization and the mass adoption of mobile technologies across the world as two of the pivotal trends that have changed the way in which companies interact with customers. Security, privacy and the service that fintech companies offer also help build trust around the new proposals, said Schulman.
BBVA's Group Executive Chairman also had the chance to share his view on the challenges facing the European Union, such as the Brexit and the uncertainty surrounding the outcome of the upcoming elections in the Netherlands, France and, probably, Italy and Germany, four of the six founding countries of the EU. "Europe definitely needs a leadership," he said in an interview with CNBC.  "I hope Europe will put some plans on the table to go forward," he said, making reference to European integration. He also spoke about Spain and the country's solid growth prospects, above 2.5% in 2017. "Spain is a source of stability in Europe," he said.
Speaking to Agencia EFE, he made reference to the impact of technological progress on employment. "Every industrial revolution always produces the same effects: At first, many jobs are destroyed. Then, a significantly higher level of wealth is attained with much greater well-being across society," he said. "It's up to the public sector to adopt measures to defend people who have been affected - but measures that do not go against progress and technology."
In an interview with Bloomberg TV, asked about the impact of the new US Administration on Mexico's trade relationships and on the peso's devaluation, Francisco González said that he remained quite optimistic on the medium and long-term In his opinion, "sometimes we need challenges to turn those challenges into opportunities. This is going to be a wakeup call for Mexico," he said. He also talked about BBVA's plans in Turkey, "an incredible country." "Our bank [Garanti] is really a jewel, probably one of the most advanced banks in technology." He reaffirmed that BBVA is really committed to its Turkish investment.
He also spoke about Mexico in an interview with Spanish newspaper El País: "Mexico is a stronger country than it seems," he said. BBVA's Group Executive Chairman stressed that "in the medium and long term, Mexico is going to come out very strong from this new political situation and the US and the Trump Administration will promote much more trade with Mexico than they think."