BBVA Global Head of Investment & Cost Management Luisa Gómez Bravo has been included in this year's edition of MujeresyCía's 100 Female Leaders in Spain 2018 list. Women's news site MujeresyCía has unveiled the seventh edition of the ranking aimed at boosting the visibility of female talent in Spain and promoting the presence of women across all spheres of society. Gómez Bravo, was named in the 'Executives' category among over 1,000 candidates.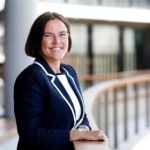 During the event organized to announce this year's results, Gómez Bravo took the opportunity to share her recognition with her female co-workers at BBVA, who, "through hard work, dedication and profesionalism are leaders in their teams and in their contribution to the bank, the sector and society." Also, she took the opportunity to shine the spotlight on the bank's commitment to promote diversity and inclusion: "BBVA is fostering a culture where diversity is not only a defining component of our values, but a strategic driver at all levels of the organization."
With her inclusion in the list, Luisa Gómez Bravo becomes part of a group of female leaders who are bringing to the fore women's contributions in the corporate world. The other shortlisted candidates recognized in the 'Executives' category were Alice Fauveau (Focus on Women), Ana Irusta (Santander), Ana Porto (Atresmedia), Arrate Oromi (Club Financiero Génova), Beatriz Navarro (FNAC), Belén Arcones (IMF Institución Académica), Cristina Sancho (Wolters Kluwer), Elena Sanz (MAPFRE) y Estefanía Narrillos (PSA GROUPE). Yet another year, the 'Top 100 Female Leaders' celebrates female talent in Spain and the role of women in different spheres of society.
Luisa Gómez Bravo, who joined BBVA almost 20 years, is currently the Group's financial head of investment and expense control, and has risen as one of the drivers of the bank's internal transformation. The pace set by the digital revolution and BBVA's determination to spearhead the banking sector's transformation required the adaptation of the bank's financial processes. For this reason, under Gómez Bravo's leadership, the bank developed the Single Development Agenda (SDA), an essential lever in the bank's new project management approach.
Both the SDA and the agile methodologies that the bank has adopted, which are essential elements of this internal transformation process, allow the group to manage its resources in a global manner, in accordance with each project's impact on the business. This allows the company to think in terms of projects instead of budgets, prioritizing those that are more aligned with the bank's strategic vision.