"We've replaced static department budgets with resource management that is dynamic and global"
Luisa Gómez Bravo, Global Head of Investment & Cost Management BBVA Group.
Luisa joined BBVA almost 20 years ago. During this time, she has held various positions in the bank, moving up to become the main financial head overseeing the Group's investments and spending and, specifically the 'Single Development Agenda'  (SDA).
She studied at ICADE and graduated with degrees in law and business administration. She lived in London for several years where she worked for American investment banks. Her view of BBVA is that it has always given her the opportunity to learn and develop. "That's my main motivation." she states.
Passionate about her job, she gets excited when she talks about the new way of working – using agile methodologies in small, multidisciplinary teams with quarterly product deliveries that enable fast results. "It's exciting because your effort becomes tangible" she remarks when interviewed about the implications of the new management approach, which prioritizes resources on a global level according to the impact each project could have on BBVA's business.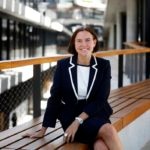 Question: You've had a long career with BBVA. During that time how have you seen BBVA develop?
Answer: The transformation process started with a clear vision defined years ago by the chairman who knew how to get ahead of the events awaiting us in the financial sector. But the transformation didn't happen overnight. It's been a learning process with a lot of trial and error.
In the past two to three years, this process has stepped up the pace. The initiative has gained momentum, which has generated traction. There is a single, unanimous strategic vision shared by the whole management team and the board. We are able to execute on that strategy thanks to the SDA and an agile approach to work, essential pieces for our internal transformation.
Everything we've learned has enabled us to get where we are now, to get to a point where we are working to create opportunities for people, a much broader mission than simply serving our customers. Fulfilling this purpose is the goal of our transformation.
Q: What does it mean to be Global Head of Investment & Cost Management
A: A simple way of describing my role is to say that it involves everything that has to do with the Group's costs and expenses. The Group's purchasing departments, the monitoring and control of cost management, issues related to efficiency and improvement plans, all fall within my remit. Additionally there are two singularly important global things that have come within my brief. There is the development of the SDA which means a new model for the management of investments and project-related costs and then everything to do with coordinating and driving the efforts that Group units make in defining the new levers of transformation of our production model both in terms of cost-saving as well as improved productivity.
Q: What does it mean for BBVA to have a single development agenda and what are its main objectives?
A: The main challenge we are facing in the technological revolution is that the speed of change has become exponential. The goal of becoming more agile arose as a critical need in our transformation and the SDP emerged, among other things, to improve time-to-market from the moment we have an idea until the product is put in our clients' hands.
The Single Development Agenda is the process whereby limited financial and team resources are assigned to projects that best fit with BBVA's strategy and will have the biggest impact. What's more, this is carried out in a dynamic way in quarterly phases. The essence of SDA lies in single, coordinated prioritization within the Group, a radically different way of doing things than we were doing before. Previously, the vision which very much budget- and financially-oriented in which each department had its budget to do things every year. There was little global visibility in the projects we did which were carried in a much more static manner and created silos. SDA broke with all that.
The new management style is premised on a single vision in which the most important projects for the Group are decided and on how we can sure that these projects have the resources needed to be carried out. Prioritization is no longer decided by the department that has to carry out the project. What's more projects come and go. That's also a different way of thinking. Lastly, to complete the picture, projects are managed on a quarterly basis which creates a very dynamic view of prioritization and assignment of resources. This in turn is more effective in that it can change in line with how the project pans out. For us, it is very important that resources can be moved instead of being pre-assigned and tied down; that there is internal competition for these resources.
The emphasis on the word 'single' leads to a single, specific governance model for everyone in the Group as well as a homogenized view of the portfolio of projects we carry out. Behind this concept also lies the message of reusability to make the best use of everything in the Group. SDA means a very significant dynamic of internal change.
The Single Development Agenda is the process whereby limited financial and team resources are assigned to projects that best fit with BBVA's strategy
Q: What are the key factors for including a project within SDA?
A: SDA distinguishes between what is an initiative, which also comes within SDA because it needs resources, and what is a project where you say "this is for real and I want to achieve this". Then you have to explain what it is you want to do, why you want to do it, how you plan to do it, when you expect to deliver it to the client and what results you expect to achieve. And of course what means do you need to carry it out.
These are things needed for resources in the form of people or money to be assigned to a project. You have to keep in mind that SDA has ceased to be limited to the world of 'Engineering' technological solutions in the world of 'Customer Solutions'. Nowadays, SDA covers any type of project in the Group and has the widest of perimeters. There are projects that have to do not only with transformation but also regulatory and property issues, or to do with obsolescence, etc. SDA is everything. It means prioritizing jointly to know where the bank's resources should go and to maximize the impact of this and being sure projects are in line with strategy in all areas.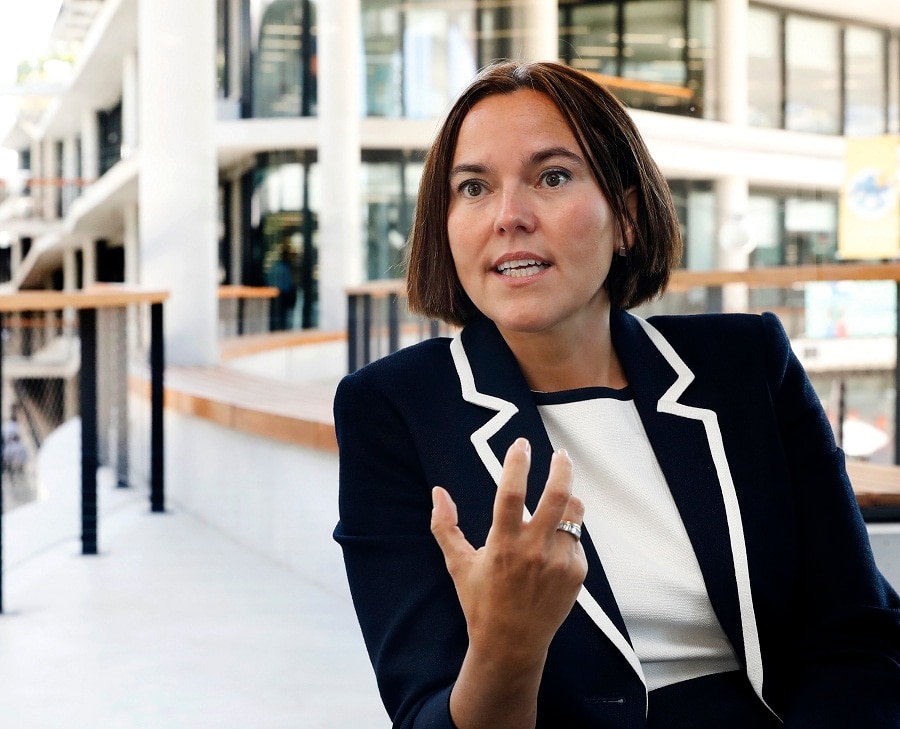 Luisa Gómez Bravo, Global Head of Investment & Cost Management BBVA Group
Q: What projects does SDA have in hand at the moment?
A: Lots, but about 400 projects take up about 80 percent of the Bank's investment effort. The portfolio is highly concentrated because when you add real-estate projects, network projects, office expansion, ATMs, regulations, I mean all of our activities, investment is concentrated on really important projects. That said, there are projects that comparatively speaking currently require less investment because they are based on having the right people in place. But these projects are really transformational or could have a very big impact in the future such as those we're doing with Blockchain or Artificial Intelligence.
About 400 projects take up about 80 percent of the Bank's investment effort
Q: How do you manage such a range of activities spread out geographically? That must be a real challenge.
A: Yes, it's a real challenge and it is precisely the quarterly system that also helps us at SDA identify what is working badly and correct it in the following quarter. For this to work we've had to develop a governance model that is synchronized both globally and locally that allows us to implement the new phase of resource assignation in all countries and all areas at the same time.
But SDA is not only about assigning resources.  We are also there tracking projects and at SDA we plan their entire execution, which includes global quarterly planning in which we organize the tasks to be carried out. SDA also tracks what is happening from start to finish to see how the schemes we had at the start of a projects are working out, see if more resources are needed and even to see if it makes sense to carry on with projects. That is why we need a personnel structure with people in place in the units and countries themselves to assure ourselves that we are all doing, more or less, the same things in the same way.
And the biggest challenge and the main objective precisely of the SDA having this global outlook is that as many as possible of our developments be reusable within the Group.  Of course, there are technological constraints that set the pace in this sense, but what's important is having parts that are built with a global outlook that can be reused by all countries when needed. If at the moment when these parts are available there is no need for them in the market, or there are other priorities, that's all right. The only thing we ask is that when the need arises we don't start building from scratch again and use what has already been developed. That way we really come out on top in terms of time-to-market and efficiency.
The main objective precisely of the SDA having this global outlook is that as many as possible of our developments be reusable within the Group
Q: The global mobile platform was the first global project identified by SDA. Why has it been so important?
A: The global mobile pattern is an iconic and inspirational project for the whole of the Bank because it means creating a global platform from the start, which on the one hand creates a unique user experience based on the global needs of our customers, and on the other because it involves developing reusable components. This is clearly the way to go. Thanks to it we are seeing the results of the concept of reusability which has enabled us to launch from scratch the new BBVA mobile app in Uruguay just a few months after it was made available in Mexico.
The Uruguay app uses practically in its entirety components that were created for the app in Mexico. That gives you an idea of the importance of reusability in speeding up time to market, as well as the improvements in efficiency this implies.
Q: What other projects in SDA could make a real difference?
A: I find a lot of projects that are interesting.  BBVA Valora of course has been very successful; 'Click&Pay' has driven digital sales; then there is the first bilateral loan using blockchain technology... The world of CIB (wholesale and investment banking) is also very innovative, where, for example, developments have been carried out in international SWIFT payments and where we have been one of the first banks to adapt to the new standards, or in the digitalization of confirmations of FX transactions. In the Talent & Culture department, we have just delivered what we call  'Talent link', which is the platform for the Group's new personnel selection process that saves time and adds agility as well as providing a much better experience for candidates. The feedback has been very positive. There are also very important regulatory projects such as NIIF 9 (IRFS 9), MiFID and other big Group platform projects.
The diversity of projects is tremendous. The good thing is that all areas are contributing to this, ambition is at a high, and you can see a wide array of internal talent emerging when you start to give shape to these projects in a very effective way in quarterly demos. For me, the big discovery in SDA and agile are the demos. They are a celebration of the deliveries we have achieved and create a strong sense of belonging. You realize that the SDA feeds directly off the values of the Bank of working in a team, thinking big and always putting the customer first.
It's in the demos where you see what you planned in boards, Post-its and sprints three months ago becoming a reality. I get a thrill when I say this because it allows you to see and share something working which you created from scratch with the whole of the bank involved.
All areas are contributing to this, ambition is at a high, and you can see a wide array of internal talent emerging
Q: Transformation is an ongoing process without a specific end. At what point does BBVA find itself?
A: If we look at all the resources and years we have invested and our strategic vision, we could say we are well down the road in the process of transformation. We're building today the capabilities needed for the following transformation.
But when you put things in a bit of perspective, the change that lies ahead is so demanding that we have to continue to do lots of things not only to hold onto this vision of leading the transformation of the financial sector but also above all in the end run to carry on creating opportunities for people.
Maximum transformation is what our proposal demands; it's the reason we exist and the reason why we want to do things. The idea of creating opportunities for people means you have to always be moving ahead; to be able, even though we have the best mobile app in the world, to think about how we can improve things the next day. You need to be thinking now about what capabilities you'll need in data science, in cybersecurity, on core issues, in matters relating to 'agile'... I believe our ability to correctly identify what we're going to need puts us at the head of the transformation; a continuous transformation that is already part of BBVA's DNA.