Metrovacesa will make its debut on the Spanish stock exchanges on February 6, with a price of €16.5 per share. As part of the IPO process, the majority shareholders – Santander and BBVA – have sold 25.8% of Metrovacesa's capital. BBVA placed a total of 11,619,724 shares, which represent 26.9% of its stake in the property company (7.7% of the share capital). The transaction is part of BBVA's strategy of divestment in real estate holdings.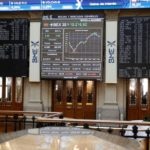 BBVA could sell an additional 1,161,972 shares (a 10% increase over its initial share offering), as a result of the exercise of its 'greenshoe' option. Upon completion of Metrovacesa's initial public offering (IPO), BBVA's stake will drop from the current 28.51% to 20.85% (20.08% if it exercises its greenshoe option).
Metrovacesa's market capitalization will exceed €2.5 billion. BBVA has acted as global coordinator and bookrunner of the transaction, together with Santander, Deutsche Bank and Morgan Stanley. Goldman Sachs and Société Générale have acted as additional joint bookrunners in the placing. CaixaBank, Fidentiis and Norbolsa have acted as 'co-lead managers.'
BBVA acquired its stake in Metrovacesa in 2009. Since then, the company has undergone a comprehensive transformation process, from both a financial and industrial point of view, which, in combination with the contribution of high-potential land for residential development formalized on July 2017 (€431 million were contributed by BBVA), has allowed Metrovacesa to become the leading developer in its sector. BBVA appoints two out of the 12 seats in the company's Board of Directors.
Ringing the bell
As a result of the IPO, Metrovacesa will expand its shareholder base, incorporating long-term institutional investors and a diversified base of international shareholders, thus improving its access to capital markets and preparing the ground for future growth. Metrovacesa's shares will go public on the Madrid, Barcelona, Bilbao and Valencia Stock Exchanges on February 6, 2018, with the ticker symbol MVC.
This IPO marks another milestone in BBVA's strategy of disinvesting in the real estate sector in order to focus on its core banking business. The transaction is expected to have a neutral impact, both in terms of capital and on the bank's results for the first quarter of 2018.