Onur Genç: "We have begun to take the necessary steps for our up to 10 percent share buyback"
During the results presentation for the first half of 2021 BBVA CEO Onur Genç stated that: "We have begun to take the necessary steps for our up to 10 percent share buyback." The bank plans to "start the programs in the fourth quarter," subject to market conditions and regulatory approvals.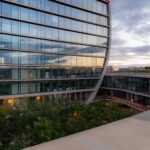 Onur Genç said that the bank is proposing this share buyback, one of the largest in Europe, due to "the conviction we have in the share price." This price "does not reflect the fundamentals of our business today," he said. Therefore, he believes that "the best we can do is invest in our own shares, since it is to believe in the future of the bank." This operation "will benefit BBVA shareholders," he assured.
Once the necessary authorizations have been obtained, the process could begin in the fourth quarter. BBVA´s CEO explained that, after this buyback, the Group´s CET1 fully-loaded proforma ratio would stand at 12.89 percent, which provides the bank with "a new level of capital strength and ample strategic options." This proforma ratio was calculated using the price at the end of July 2022, which represents a total of approximately €3.5 billion.
Economic growth will strengthen
Onur Genç affirmed that "the economy's growth has been strengthening this year." In fact, "BBVA Research has revised up its GDP growth forecasts for almost all countries." This suggests that activity and risk indicators will continue to benefit from the improvement in the economy earlier than anticipated.
The CEO explained that the cost of risk continues its downward trend. In the specific case of Spain, BBVA improves its outlook for this indicator for 2021 as a whole and estimates that it will be below 40 basis points. Regarding the delinquency rate that has fallen in the quarter, he does not expect it to increase significantly this year. There may be "some rebound in non-performing loans in 2022," but "at BBVA we have already provisioned it. Therefore, it will not entail a cost for the bank."
At the close  of June 2021, the institution reached "a new level of capital strength" (with a  fully-loaded CET1 ratio of 14.17 percent), which provides us with "ample strategic options, "assured Onur Genç. First, to "grow profitably and be more efficient in the markets in which we operate, strengthening our leadership position." Second, to "increase the remuneration of our shareholders." In addition to the aforementioned buyback, he stressed that "we are going to recover our dividend policy of between 35 percent and 40 percent payout" entirely in cash.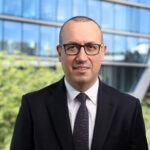 A digital customer acquisition record
BBVA also made notable progress in two of its strategic priorities during the first half of the year. "Our focus on creating digital products and processes has been differential in customer growth," said Onur Genç. BBVA attracted more than 4 million customers around the world in the first 6 months of 2021. Of these, 360,000 were in Spain (about 80 percent more than in the same period last year) and almost 50 percent were by digital channels, which is a record.
As such, the institution remains focused on investing in profitable customer growth. "We have a very disciplined approach to acquiring new customers in each segment and we can make a difference," said Onur Genç. "We are going to invest in organic growth, in acquiring more clients and expanding."
Another key trend that is accelerating is our transition to a more sustainable world. "This involves large investments and simultaneously represents a huge opportunity for society and also for banks." Onur Genç pointed to the fact that BBVA recently doubled its target of   channeling sustainable financing to €200 billion between 2018 and 2025. "This new objective places BBVA as one of the leading banks in the world in terms of its commitment to sustainable financing."
Last week the bank gave yet another boost to its strategy by raising sustainability to the highest executive level of the organization with the creation of a new global area for Sustainability.