BBVA doubles its target of channeling sustainable financing to €200 billion
BBVA is to channel €200 billion in sustainable funding through 2025, doubling the initial €100-billion target announced in February 2018. "We want to contribute to the global collective effort against climate change and promote inclusive growth, leaving no one behind. Two pillars that guide our pledge and purpose that is "To bring the age of opportunity to everyone", said BBVA Chairman Carlos Torres Vila.
"Sustainability is a strategic priority for BBVA. Very relevant challenges such as climate change or the fight against inequality affect us all and need to be tackled at an unprecedented pace," pointed out Carlos Torres Vila. "Helping our clients in their transition to a more sustainable future also represents a huge opportunity. That is why we believe we must, and we can, be more ambitious, doubling our sustainability pledge to go further," he added.
"Our new goal is to channel 200 billion euros by 2025 in sustainable financing, exactly two times our current commitment for the same period. A figure that places us as one of the world's leading banks in this area," he explained.
As of March 31, 2021, BBVA originated a total of €59 billion in financing for sustainable projects, more than half of the €100 billion it pledged to fight climate change and promote inclusive growth from 2018 to 2025. The volume of financing channeled by BBVA in sustainable transactions grew at a rate that was 44 percent higher than expected. Quarter after quarter, BBVA beat its forecasts regarding sustainable financing origination.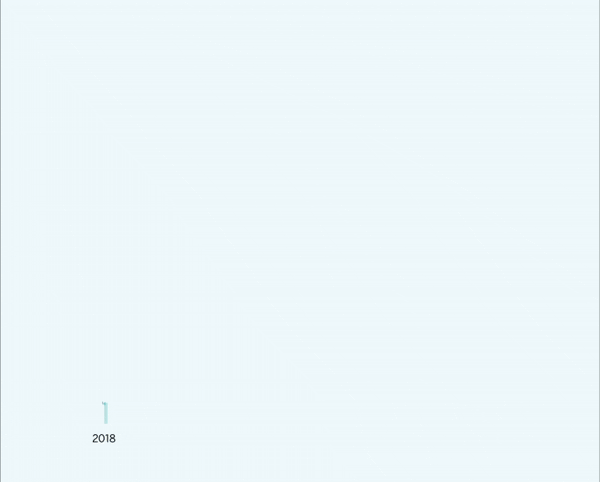 From 2018 through March 2021, 77 percent of these sustainable funds were earmarked for climate action, while the remaining 23 percent were devoted to fund inclusive growth projects. Most of these financing arrangements, or 67 percent, originated in the Corporate Investment Banking (CIB) area, involving large clients; while Enterprises accounted for 16 percent and Retail banking for 17 percent.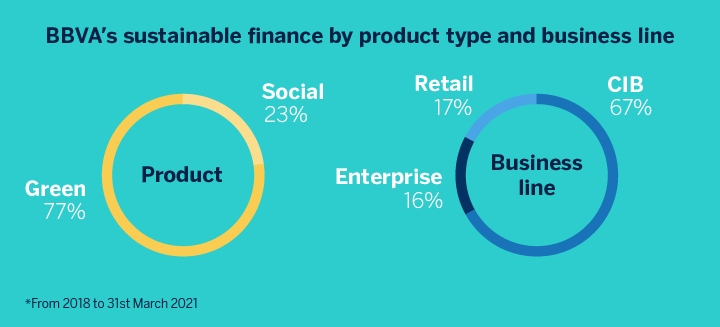 On March 5, 2021 BBVA announced its decision to stop financing coal-related activities by 2030 in developed economies and by 2040 in emerging economies. BBVA will continue to support the financing of renewable and sustainable energy projects for these companies, in order to help them tackle their energy transition process.
In addition, the bank committed to achieving carbon neutrality by 2050, in terms of both its own emissions (which it has already achieved) and of its customers' and clients' emissions. BBVA is Europe's most sustainable bank and the world's second, according to the Dow Jones Sustainability Index.
Throughout 2021 BBVA will continue unveiling its plans and targets to support the decarbonization efforts of its clients in carbon-intensive sectors: oil, gas, automotive, steelworks, cement and transport. Together with coal, these sectors account for two thirds of all global emissions. In short, to work on plans that will contribute to delivering on its 2050 net zero emissions goal, in line with the goals of the Paris Agreement.
Sustainability criteria
Regarding the criteria to determine which activities qualify as sustainable, BBVA follows the EU guidelines specified in the European taxonomy for sustainable finance. The current taxonomy establishes a list of environmentally sustainable economic activities in relation to climate change adaptation and mitigation objectives. Therefore, for an economic activity to be aligned with the taxonomy, it has to be proven to contribute to these environmental objectives. For example, power generation activities using solid fossil fuels are not deemed environmentally sustainable and therefore cannot be incorporated into the taxonomy.
The EU taxonomy is a work in progress and continues evolving to cover new concepts, such as social and biodiversity related objectives. As for transactions outside the current EU taxonomy, BBVA follows the principles of said taxonomy and international market standards.
BBVA will continue expanding the information regarding its sustainable financing activities in its public reports, which will be drawn up in line with best international practices.