Onur Genç: "We have room to increase these earnings in the coming years"
BBVA CEO Onur Genç said on Monday that he has "confidence in the sustainability of BBVA's results in the future." This is due to the fact that the bank has certain structural advantages that go beyond the specific market context: its strategy, leveraged in digitization, innovation and sustainability; its leading, profitable franchises; and its presence in attractive markets with potential for growth". In his opinion, "We have room to increase these earnings in the coming years," he said at the 14th Financial Meeting organized by KPMG and Spanish business daily Expansión.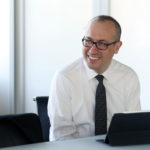 In his presentation at this meeting held in Madrid, the BBVA CEO underscored the bank's extraordinary performance, surpassing its peers in key metrics such as profit and profitability. BBVA has an ROTE of 16.9 percent, compared to the 13.5 percent average for its European competitors in the first half of 2023. Furthermore, BBVA has increased its total shareholder total return (share price performance + dividends) by 113 percent since January 2019, nearly double the figure for European banks of 57 percent.
"The factors that propel our excellent performance are structural and lead us to believe that we will continue to surpass our peers in the future," he explained. One of these factors is the positive outlook for its main markets, Spain and Mexico. In Mexico, the economy has proven to be very solid and will benefit from factors like nearshoring and the effects of the Inflation Reduction Act in the U.S. In Turkey, he referred to the first economic measures taken by the new government in response to the macroeconomic imbalances that remain.
The CEO pointed to BBVA's current shareholder remuneration policy, which sets distributions at 40 to 50 percent of profit in the form of dividends and potential share buybacks. In this regard, he stressed the decision made by BBVA's Board to ensure that a larger portion of this payment is made in cash dividends. Specifically, cash dividends reached 40 percent of the bank's profit last year, with distributions to almost 800,000 shareholders, mostly families and small savers.
Onur Genç anticipated the possibility that BBVA will continue to remunerate shareholders through this formula while the bank's share price remains below its book value. He recalled the bank's €3.16 billion extraordinary share buyback in 2022 as an example, in which BBVA acquired its own shares for an average price of €4.9 per share. The bank's share price is currently over €7.5 per share. "This represents enormous value creation for our shareholders," he said. Since 2021, BBVA has distributed €8.2 billion to its shareholders between dividends and share buybacks. If the recently announced share buyback that began last week is added to the 2023 interim dividend, the figure would be close to €10.2 billion for the period.
Asked about growth in the customer base, he reiterated that BBVA "is ahead of the competition in its digital transformation," with an approach based on four phases: service, sales, new customer acquisition and advice. Thus, the bank has plenty of room to add new customers in emerging markets like Mexico, where nearly five million new customers joined the bank in 2022; 76 percent of which via digital channels. In Spain, BBVA acquired over one million new customers in 2022, over 50 percent via digital channels.
Regarding the franchise in Turkey, he indicated that "the team is making very good decisions and we will have to wait to see how it evolves." In terms of BBVA's takeover bid for its Turkish franchise in 2021, he stressed that "Garanti BBVA's market capitalization has more than doubled in the past two years, even taking the depreciation of the Turkish lira into account." Looking toward the future, he emphasized the county's potential due to its demographics and the fact that it is a manufacturing hub for Europe.
Concerning credit risk indicators, the CEO noted that "asset quality metrics are performing within expectations" in Spain, as a result of positive factors like the resilience of the labor market, the evolution of GDP per capita and household and corporate debt in the country. And he recalled that in the future, "BBVA will appropriately manage any deterioration in asset quality."
Asked about the Spanish tax on banks, he once again said that this tax hampers growth and he believes that the best way to increase these resources is to make the economy grow.
Taking stock of his role as CEO, Onur Genç feels "privileged to be part of a team that is having a positive impact on all of its stakeholders." First, for its shareholders. "Of the top 15 banks in Europe last year, BBVA was number one in profitability, efficiency and loan portfolio growth," he added. Second, for its customers and employees, with increasing satisfaction every year; and finally, for society as a whole. "I am proud of the role that BBVA plays, propelling progress throughout society," through its main activity of lending, as a means of creating jobs, and through its role of assisting specific groups, such as those over the age of 65 and rural Spain, he concluded.