BBVA reaches 86 percent stake in its Turkish franchise, following the closing of the takeover bid
As a result of the voluntary takeover bid for the 50.15 percent that BBVA did not own in Garanti BBVA, the Group acquired shares of its Turkish unit, which account for 36.12 percent of its social capital, reaching a total stake of 85.97 percent.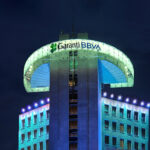 The amount paid by BBVA for the purchase of these shares was 22,758 million Turkish lira (equivalent to some €1.41 billion¹), with a capital consumption of around half of that amount: about 23 basis points² (equivalent to a bit more than €700 million).
The launch of a takeover bid was agreed by BBVA's Board of Directors on November 15, 2021. And once it received all regulatory authorizations, the acceptance period for the takeover started on April 4, 2022. The initial price, which was set at 12.20 Turkish lira per share, was increased to 15 Turkish lira per share on April 25, 2022.
BBVA first invested in Turkey in 2011, acquiring a 25.01 percent stake in Garanti from Dogus and General Electric. In 2015, BBVA became the leading shareholder, following the increase of its stake to 39.90 percent through the purchase of an additional share package to Dogus. In 2017 BBVA increased its stake to 49.85 percent.
Throughout the years Turkey has become a strategic market for BBVA. The potential of growth for the Turkish economy -which BBVA estimates at 3 percent annually-; its demographics with more than 85 million people and an average age of 33 years; its commercial ties with Europe and its low banking penetration, with household debt ratio below 20 percent of Turkey's GDP; they all make it an attractive market in the long term.
With a market share close to 20 percent among privately-owned banks in loans in Turkish lira and deposits, Garanti BBVA is the best bank in the country with proven resilience and ability to generate results even in complex environments. At the end of March 2022, it had 21,680 employees, 5,606 ATMs and 1,003 branches.
¹ Using the effective exchange rate of 16.14 Turkish lira per euro.
² The calculation takes into consideration the Group's financial statements as of March 31, 2022, using the effective exchange rate of 16.14 Turkish lira per euro.