BBVA to pay an interim dividend of €0.16 per share, up 33 percent from a year earlier
BBVA shareholders are to receive on October 11, 2023 an interim cash dividend of €0.16 (gross) against 2023 earnings. This dividend is 33 percent higher than that of October 2022 (€0.12 per share).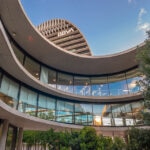 BBVA's shareholder distribution policy considers a payout of between 40 and 50 percent of its profit. This means that between 40 and 50 percent of the profit generated in a year is devoted to cash dividends, which can be combined with share buybacks. The implementation of this policy materializes through two payments (one interim, normally in October,and a final one, normally in April). The portion of profit not devoted to shareholders' distributions, is mainly used to strengthen BBVA's ability to give loans. 
In addition to the distribution policy, and given its solid capital position, BBVA has in recent years made extraordinary share buybacks. Since 2021, the bank has distributed €8.2 billion in dividends and share buybacks to shareholders. When adding this to the interim dividend against 2023 earnings, the total amount would increase to more than €9 billion distributed to shareholders.     
BBVA Chair Carlos Torres Vila has said that "We are firmly committed to maintaining attractive and sustainable distributions over time for our almost 800,000 shareholders, many of them families and small savers."
Furthermore, BBVA is creating value for its shareholders through its good performance in the stock market. Since January 2021 until now (with data as of September 26, 2023), the bank's stock has increased its value by 85 percent, well above that of its Spanish (53 percent) and European (47 percent) peers.