Moving sustainability from awareness to action and beyond
Moving sustainability from awareness to action and beyond
The United Nations' (UN) launch of the 17 Sustainable Development Goals (SDGs) in 2015 was an acknowledgement that, to create lasting change in the areas of economic and social equality and environmental sustainability, it was imperative for all countries to work together. But, more importantly, it was a call for stakeholders - including the government and public and private sectors - to be actively engaged and accountable for their own role in creating this sea of change.
In the five years since the launch of the UN SDGs, those of us in the public and private sectors have been grappling to understand the implications of the 17 goals and how to effectively adapt them as part of our business objectives. This has yielded mixed results, at best. In fact, according to PwC SDG Challenge 2019, a solid 72% of companies surveyed mention the SDGs in their reporting, but only 14% include specific targets around them. This is not enough.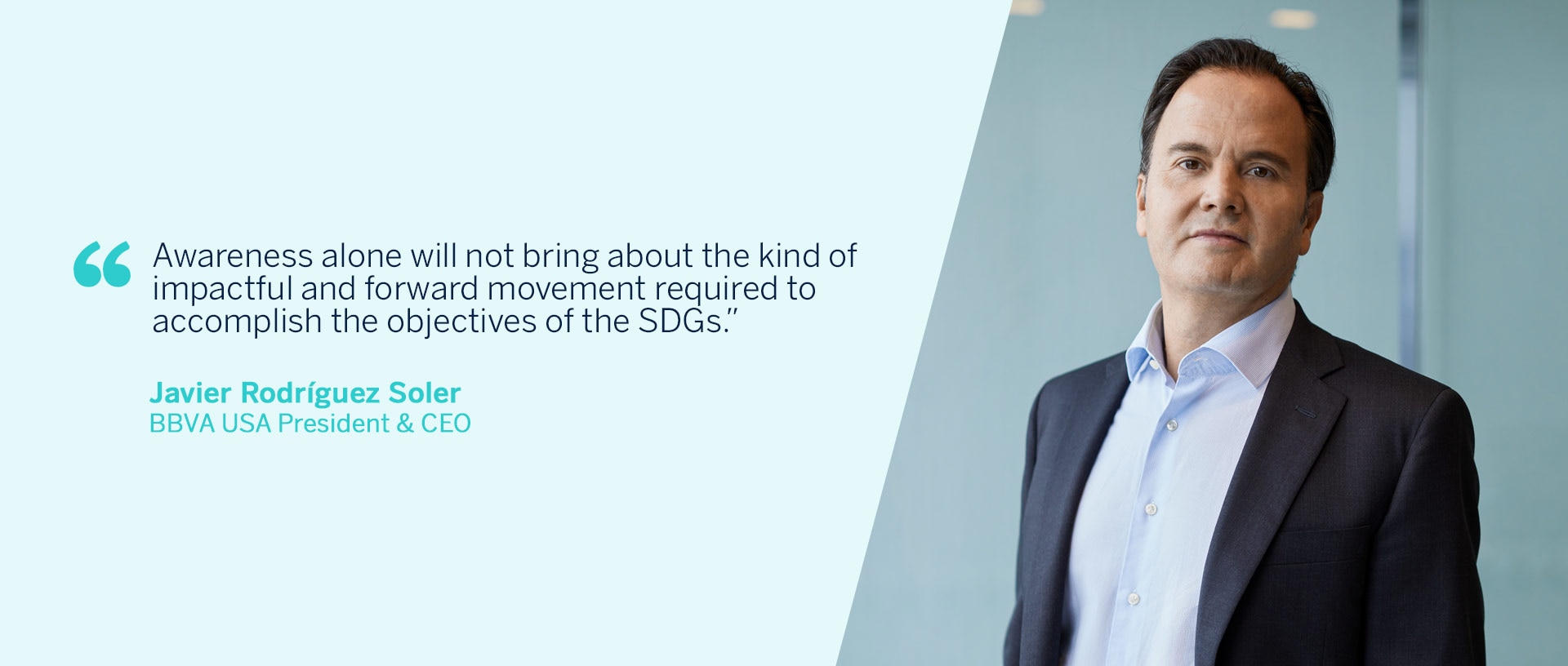 Simply said, awareness alone will not bring about the kind of impactful and forward movement required to accomplish the objectives of the SDGs.
In a year where we have seen a global pandemic, social unrest, unchecked wildfires and potentially more storms than letters in the alphabet, the sustainability topic may be one that gets pushed to the back burner, as Richard Threlfall, Global Head of KPMG IMPACT and Global Head of Infrastructure posits in this blog. According to this KPMG survey, thankfully, this is not the case. Instead, Threlfall says the survey "confirms that business leaders are taking the opportunity to re-evaluate their organization's sense of purpose, are feeling the need to take a stance on societal issues, and to take action on climate change."
This is great news given the impact businesses like ours can make. But, how does a corporation move from awareness to action and beyond?
The secret lies in having a dedicated sustainability strategy that includes both positive impact for society and to the bottom line. Sustainability is not just good for the environment. Done correctly, it's also good for profits.
A solid sustainability strategy is really no different than any other business strategy you would create to move your company forward. It incorporates an objective, purpose, solid business case, specific and measurable targets and tactics and KPIs. As you're building your strategy, you'll find various takes on key considerations to keep in mind. I believe some of the most important among them are:
Understand how a sustainability strategy underscores and amplifies the purpose of your organization

A sustainability strategy worth its salt contributes to this purpose, as a seamless part of the company's "why."

Understand your organization's best opportunity for impact in sustainability

Based on the products and services you deliver, it's imperative to know where you can have the most influence. For instance, at BBVA, we deploy money that contributes to growth. We must ask ourselves, "What can we do to deploy that money in a way that also impacts a sustainability agenda?" And while sustainability may seem like enough on its own merits, promoting stakeholder buy-in also includes presenting the business case and the positive impact to the bottom line. Make no mistake, a clear sustainability strategy that understands and takes action within the business model in which it is operating can directly impact profit and loss and enhance risk mitigation.

Create stakeholder buy-in

Public sector businesses have a variety of stakeholders, from customers to employees, board members and shareholders and more. To ensure an agenda is both successful and has staying power, all stakeholders must believe in it and be willing to devote their time, resources and energy to it if asked. This most often happens when the sustainability agenda is demonstrated to be closely tied to the organization's purpose and a clear business case - and path - is presented.

Track and document progress

All successful business strategies track progress of implementation and success. A  sustainability agenda should be no different. Importantly, the progress being made should be documented for stakeholders to see. This continues to promote buy-in and engagement among internal and external groups, which helps ensure sustainability is a long-term strategy that doesn't disappear when times are tough or the organization shifts focus.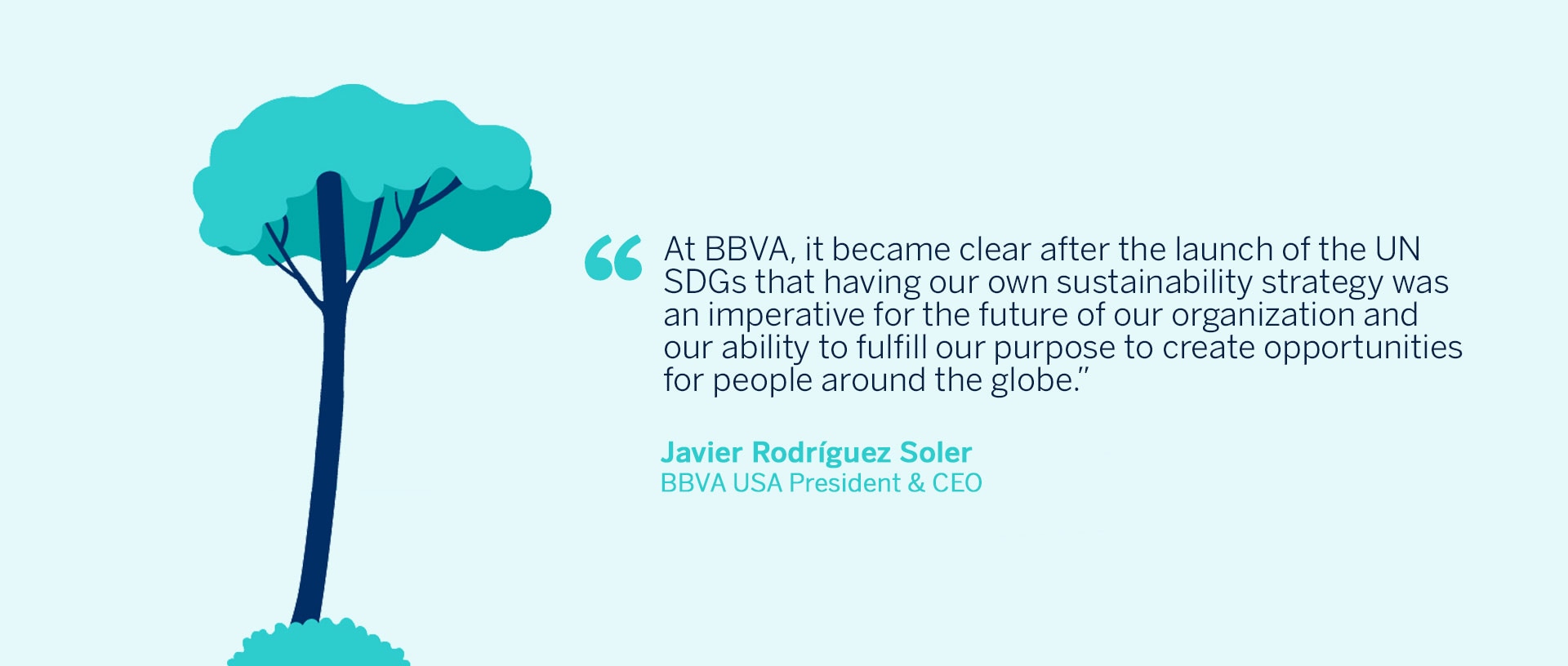 At BBVA, it became clear after the launch of the UN SDGs that having our own sustainability strategy was an imperative for the future of our organization and our ability to fulfill our purpose to create opportunities for people around the globe.
As a result, in 2018, BBVA launched Pledge 2025. It is based on three lines of action: financing, management and engagement. The pledge also included a commitment to mobilize €100 billion in green finance, sustainable infrastructures, social entrepreneurship and financial inclusion through 2025.
This year, with the launch of our new 5-year strategic plan, sustainability itself became one of our six global strategic priorities, with a focus on mobilizing our dollars to make an impact in climate action - specifically SDGs 7, 12 and 13 -  and inclusive growth, which reference SDGs 8 and 9.
In the US, we have focused our efforts on developing products and services that address the promotion of energy efficiency and the circular economy, as well as creating investment programs that address the un- and underbanked, affordable housing and support for entrepreneurs.
And, in the vein of tracking and documenting our progress, I'm please to share the following progress in reaching our goals around sustainability:
BBVA announced in August of this year, just two years after the original Pledge 2025 was made, that it reached 40% of its sustainable financing target, or €40 billion in sustainable finance.
In 2019, BBVA USA pledged to put nearly $15.5 billion in lending, investments and services toward supporting low- and moderate-income individuals and neighborhoods in the U.S. over the next six years, renewing its 2014 5-year $11 billion commitment  - which it completed months ahead of time - to boost economic development across all the communities in its footprint.
Just last week, BBVA USA also launched its first sustainability-focused commercial real estate loan, marking the first, but certainly not the last, product that addresses environmental sustainability.
BBVA USA's Corporate & Investment Banking (CIB) unit has also been working on this for a number of years and has focused its efforts in actively promoting the topic of sustainability with our clients and by developing a set of products to help support and finance our clients' own sustainability journeys. CIB has already led sustainability-linked deals in the syndicated loan and bond markets.
I speak for all of BBVA when I say we're proud of the progress we've made in moving our sustainability agenda forward globally.
But what one company does alone is not enough. We must keep moving forward collectively on this issue. This year, more than any other in our history, has shown how interconnected we are globally, and how disruptive sustainability and climate change can be to our collective business interests and well-being if not given its proper due.
It is way past time that we all recognize what is right in front of us.