The Roca brothers prepare a menu for Elton John's Oscar night dinner
On Sunday March 4, the global capital of the film industry will once again don formal dress to announce its highest honors. During the ceremony, celebrities will attend a number of parties but without a doubt, one of the most popular and long-awaited will be the charity dinner hosted by Elton John each year to collect funds for his foundation. This year, the Roca brothers, the celebrated restaurateurs of Girona, will be in charge of the preparing a special menu for the occasion - a menu not just for the stars, but for a good cause.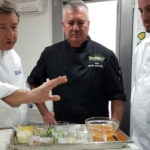 The Elton John AIDS Foundation has for 25 years been organizing some of Hollywood's most important charity events. The dinner held during the presentation of the Oscars brings together actors, actresses and other famous people, ready to celebrate cinema and collaborate in the fight against AIDS. In 2017,  $7 million in funds were collected and this year, the organizers hope to surpass that figure.
Thanks to the collaboration from BBVA Compass, the bank's U.S. subsidiary, the dinner scheduled for March 4 will have a menu designed by El Celler de Can Roca, the brothers' iconic restaurant in Girona.  The three brothers, ambassadors of the family brand, will take over from chef Gordon Ramsay to adapt some of the creations for this dinner date with the stars.
Joan Roca will travel to Los Angeles the night before the ceremony to supervise the preparations. Given the number of guests – more than 1,000 – the team from El Celler de Can Roca have called for the help of a few friends. Two chefs from Los Angeles have gone to Girona to familiarize themselves with the menu, which will have a number of appetizers, four courses and a dessert.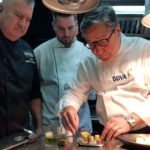 Joan Roca tests the special menu for Oscar night - BBVA
"The guests can expect an incredible dinner. The technique is very different, the flavors very fresh, very much in season," says Martín González, one of the chefs who has visited the kitchen of El Celler. "I think it will be a hit and I believe that Elton John and his guests will enjoy it," says Joan. This will be a challenge for the Roca brothers, whose success is based on dishes with a family tradition and Mediterranean flavor, revisited their particular vanguard treatment, in order to please "a public with many different ways of understanding food."
"We thought of a menu that would be adaptable to a very diverse, heterogeneous public, with many different ways of understanding food," says Joan. The brothers are planning to take some products from Girona, but will also use elements from the area. "We are familiar with the region from our visit to San Francisco during the BBVA tour in 2016 and we will base part of the menu on that previous work."
It´s a challenge they didn´t hesitate to accept. "We're non-conformists and always have been.  We always say yes to proposals like this one and afterwards we see how we'll organize it. Now that we´ve studied it, I believe it will turn out fine. Clearly, it´s a challenge, but we enjoy challenges."